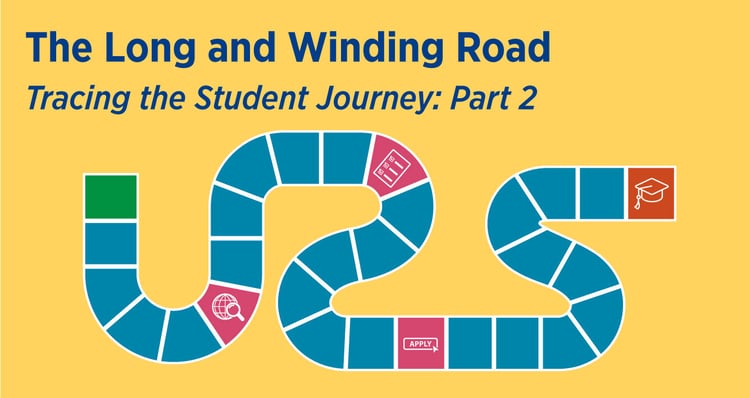 Last week we began tracing the evolving international student journey, with a look at what might help or hinder your relationship with prospects along the way. In short, it's all about engaging content and great follow-up. But that's just part of the story.
When marketing to students, we often focus on the information we want to give them, but it's equally important to consider what information a prospect needs to give you and what steps you need that prospect to take. So let's explore a few ways to entice students to click that CTA and follow your channels, register for an event, download that guide… You get the idea.
Read on for our next installment reviewing the student journey elements that are so important to the phase we are in right now as application deadlines approach.
Easy access to staff and students
Have you got a live chat widget on your website? Do you let prospects contact you by WhatsApp or WeChat? If your institution has a policy against using channels like this, then 2022 is the year you change those policies.
Simply put, the easier and faster you can give prospects ways to reach you, the better. And yes, that means you have to monitor them so that responses happen within 24-48 hours.
We all know how valuable it is for future students to speak directly with current students, yet we also understand that not every institution can allocate budget or student workers to monitor live chat sessions.
So, try the next best thing: schedule weekly or bi-monthly live chat sessions on Instagram, Facebook, and YouTube, and regularly feature students from different countries. Don't forget to invite globally dispersed alumni, too!
For larger universities with podcasts or radio stations, you've got the perfect channels to invite international students on as guests and respond to live audience feeds in real-time.
Understanding and crafting prospect personas
One of the most important things to learn about your prospect as early as possible is their motivation for enrolling. Seasoned marketers often roll their eyes at customer persona development. Nevertheless, the idea of and rationale for target audience personas remains strong. The persona is not a holy grail, it is simply another very useful tool to focus your marketing content and dissemination plan. It is also incredibly helpful when you have multiple members of your team involved in the recruitment process. The persona helps align everyone on the same target audience to help keep the overall approach and content consistent.
Speak with students and alums. Why did they choose your school over another? What obstacles were they willing to take on? What were the socioeconomic conditions in which they were living and how are these evolving? What really motivated their decision to study in the US — is it to study abroad, is their chosen program too competitive at home, or something else? Get to their truth so you can address it head-on in your campaigns and targeted communications efforts.
For more on the basics of building an effective student persona, see this blog post.
Surprise and delight
Central message and content development – this is where you can really flex your creative muscles! It's also a great opportunity to gather colleagues from various departments for a brainstorming session. What would a prospective engineering major from Mumbai find exciting? What might spark a reaction from that hard-working junior executive in Sao Paulo?
Dig into the mindset of some of your student personas and come up with a list of ways to surprise and delight them at various stages of the journey. This could be as simple as an invite for a private one-on-one call with a program director or as elaborate as a printed invitation to meet one of your alumni at an area local coffee shop or a larger industry event.
And for the bootstrapped prospect with the stellar grades? How about a notice of eligibility for a scholarship or guarantee of an on-campus job in a student hotspot like the gym, coffee cart, or library? Based on all the prospective student research, student jobs have huge appeal. The personal income opportunity is one thing. If the job can be in their academic department/field of study, all the better.
There's no limit to what you can come up with. The only rule is that you can't say, "That won't work," until you've tested it with active students.
[As mentioned last week, this 2020 post of ours offers some additional perspective on customer journey mapping you may find useful.]
You're on this journey together
You know the old African proverb: "If you want to go fast, go alone. If you want to go far, go together." That couldn't be more true with enrollment management.
The choice of an institution is not a hasty one for students. Your prospects will take months or even years before they make a decision and it's one that will change everything about their future. As they begin their path on this long and winding road, you have the opportunity to nurture them at each twist and turn. Savor the moments, give them reasons to engage, trust, and ultimately, love what your institution has to offer.
A journey is always sweeter when you're on it together.
Stay tuned next week for some valuable takeaways from #AIEA02022.