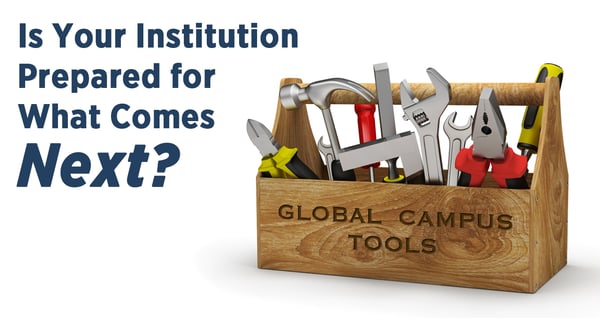 Global campus options are now more critical than ever. Do you have the flexible toolkit to secure your Spring 2021 term?
Back in May, we let our community know about a new opportunity through CIEE to establish turnkey global campuses. This is the realistic innovation we see as critical to maintaining international student enrollment opportunities.
This is doable.
With their 70 years of experience in international education and their footprint of 30+ campuses around the world, CIEE developed a program to help institutions serve their international students despite COVID-19 and the travel restrictions that have been roiling the industry.
Since May, less than 3 months ago, more than 8 forward thinking and fast-moving institutions saw the opportunity. For the Fall 2020 term, more than 1,300 international students are enrolled in those institutions and will study on CIEE campuses overseas in Shanghai, Seoul, and other reachable cities.
Innovators like Tulane University, Rutgers University, Massachusetts College of Pharmacy and Health Sciences University, Penn State, Clark University, and others are leading the way for their international students:
Developing the long-term bond between student and institution
Delivering their customized academic programming
Securing student graduation timelines
Maintaining enrollment numbers and revenue streams
Recruitment. Retention. Revenue.

Spring term 2021 is now in play. US universities are witnessing the ever changing and ill-defined decrees from the US State Department about how international students can and cannot come to the US for their academic programs. Hard enrollment numbers for Fall 2020 are on their way.
Read on for the inside scoop from the academic leaders who took steps in May to secure Fall 2020. And how your steps today can secure Spring 2021 and beyond.
For international students still in their home country who also want to stay local right now (for a variety of reasons, from visa processing to virus concerns), a local or regional on-campus option is superior to the study online from home option.
International students enrolled at their universities and on a CIEE campus receive the full face-to-face university campus experience from social to academic. The academics are specific to each university following the curricula and syllabi offered back on their US campuses. Students appreciate that they can maintain their original graduation timeline with no delays.
US institutions are now looking at establishing this global student recruiting and program delivery flexibility for Spring 2021. CIEE's capacity to host students on their global campuses while significant, is limited. The most accessible and desirable cities can fill up. Beyond Seoul and Shanghai, think: Berlin, Mumbai, Tokyo, Amman, Amsterdam, and many more.
The message for all students: we will set you up for success like no other institution can. As students seek confidence and reassurance about their personal study plans, this approach resonates.
@KarinFischer wrote about this program on May 22, 2020 for The Chronicle of Higher Education:
With many Americans who would have studied abroad planning to stick close to home next semester, study abroad providers are using their excess capacity to accommodate international students. The Council of International Education Exchange, which has 32 sites in 22 countries, is in talks with several colleges about developing such programs. Clark University, in Worcester, Mass., … previously ran [a language] pathway on its campus, but holding it in China would maintain the pipeline of students, said John LaBrie, dean and associate provost for professional education.
Tulane University's leaders, early adopters, saw Shanghai as the perfect solution. They shared their perspective with their community:
This is a great opportunity for our students in China and a wonderful example of cross-campus collaboration from many people and departments. I'm so pleased we have the chance to offer our Chinese students a strong academic experience this fall," Newcomb-Tulane College Dean Lee Skinner said.
Students will also be able to engage in co-curricular and experiential learning opportunities throughout Shanghai, including meetings with China-based Tulane alumni and company visits in conjunction with their courses.
"Tulane Global offers Tulane undergraduate students from China the opportunity to participate in academic courses and co-curricular programs alongside other Tulane students," said Casey Love, Interim Associate Dean of Global Education.
Ensuring your institution has these kinds of flexible academic delivery options is critical today. And based on what we are seeing, that need for global flexibility is not going away any time soon.
Worth exploring for your institution? We think so. Reach out to us or share this post and this CIEE Program Description with your colleagues to get ready for Spring 2021 and beyond. No time to waste on this one.