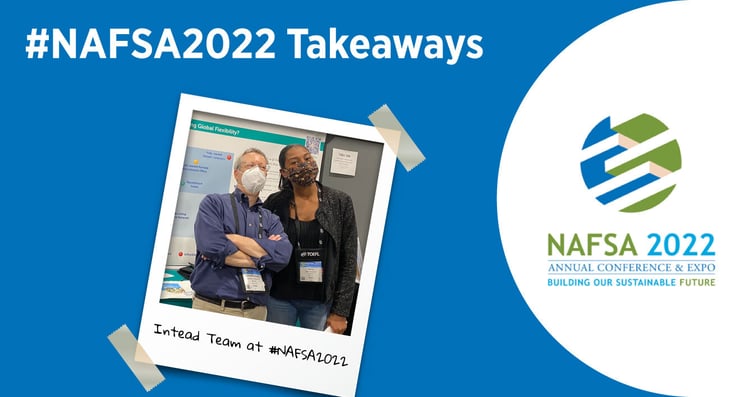 As I sat out most of the #NAFSA2022 conference in my Denver hotel room due to a positive covid test the day after I arrived, I worked the phone, email, and social media to keep as many balls in the air as possible. From my 34th floor room across the street from the real action, I provided helpful reports on Downtown Denver traffic patterns ; -)
If you missed our Big 10 Digital Campaign Case Study download, you'll want to grab that here. We ran out of the handouts at NAFSA but PDFs are forever!
During NAFSA, what I missed most, what I regret, is simply those moments when the Intead team is presenting and the NAFSA crowd is clearly taking in new ideas and sharing their excitement about how digital marketing, new tools, and deep insights into target audience decision-making (the stuff of real marketing: voice of the customer) all come together to create successful recruiting initiatives.
Despite what I did NOT get out of the conference, the Intead team (Patricia Tozzi + Iliana Joaquin on-site, and Rachel Trahan behind the scenes) took all matters into their own hands bringing their usual level of amazing. Meanwhile, I sat in my hotel room patching into all the important chats by phone and trying to avoid feeling pathetic.
There is a theme that has been running across international student conferences for many years, and #NAFSA2022 was no exception. It is a lament one often hears from department leads – in most institutions and across all industries. It is the cry of the under-resourced. The "If they only knew how important our work is" dirge.
These department chairs and administrative leaders are frustrated by colleagues and bosses up the chain who somehow do not recognize the value represented by the real work being done and the outcomes produced.
"How do they think they will get the growth outcomes they want if they don't support us?"
"Why are they not seeing or valuing our success? Our potential? How hard we work?"
"Why do the resources always go to those guys?" (read: domestic marketing)
So, we get it. Your department needs more funding. For marketing collateral, for digital media buys, for tech tools and analytics. For more hands to simply do the work.
But, let's turn the questions around. Read on for new perspectives on these longtime frustrations…
It's time to ask:
What are YOU doing to make your work relevant to the powers that be?
What data do you have? How are you presenting it?
What thought leadership have you demonstrated?
What relationships with internal or external influencers have you built?
As we all work to reframe frustrations, a few choice comments emerged this week that inspire and motivate us. Leaders like Dr. Jewell Winn and Dr. Roslyn Artis do not sit on their hands when crisis strikes.
Via Karin Fischer (@KarinFischer): "You'll be working more at the intersection of international education and diversity, Dr. Jewell Winn (@JewellW) of

@TSUedu

and

@AIEAWorld

tells international education leaders at

#NAFSA2022

. But there may be 'tough conversations' for international ed to be more engaged in JEDI work, Winn says: 'I'm comfortable with making you uncomfortable if you think about things - and especially if you act.'"
From Dr. Roslyn Artis (@ArtisRoslyn) of @BenedictEDU: "They say that culture eats strategy for breakfast. That's because strategy never fights back!" She went on to say of her leadership team's reaction to the pandemic, "If we let up, we would lose momentum. We had to ensure the comeback was going to happen."
To get folks throughout the institution and up above to respect and value your work, there are some important strategic steps needed. Wishing people will naturally want you to succeed rarely produces results.
First step: understand what your potential champions value and tailor your message to what will motivate them. Sounds a lot like marketing, right?
Many SIOs over the years have used Intead data, cheat sheets, blog posts, ebooks, and case studies to make the case for what works out there. One NAFSA conversation we had focused on how US leadership (presidents and provosts) are typically unaware of the level of effort and investment their UK, European, and Australian university counterparts put into their international recruiting programs.
We've been involved in other conversations about how CFOs at UK institutions typically work closely with the enrollment marketing and admissions teams to develop effective plans. The relationship between the finance team and the enrollment marketing team is not one full of tension and undermining behaviors.
We will have more NAFSA insights to share next week, along with all of our NAFSA 2022 session slides where Patricia Tozzi and the many institutions that partnered with us this year totally rocked the show. You won't want to miss that post!
I have to say, trying to stay in the game from the 34th floor was not where I wanted to be. But I could feel the energy all the way up here. The desire to do more, get more out of the tools that are available, be more authentically present for the students who are seeking opportunities.
With gratefulness in my heart, I appear to have kept the damn bug to myself and not transmitted it to any of my family or colleagues over the past few days (masking and isolating help). Also fortunate that my symptoms are nearly non-existent.
Hoping you all stay safe and continue to put all you've got into this awesome work we are engaged in.