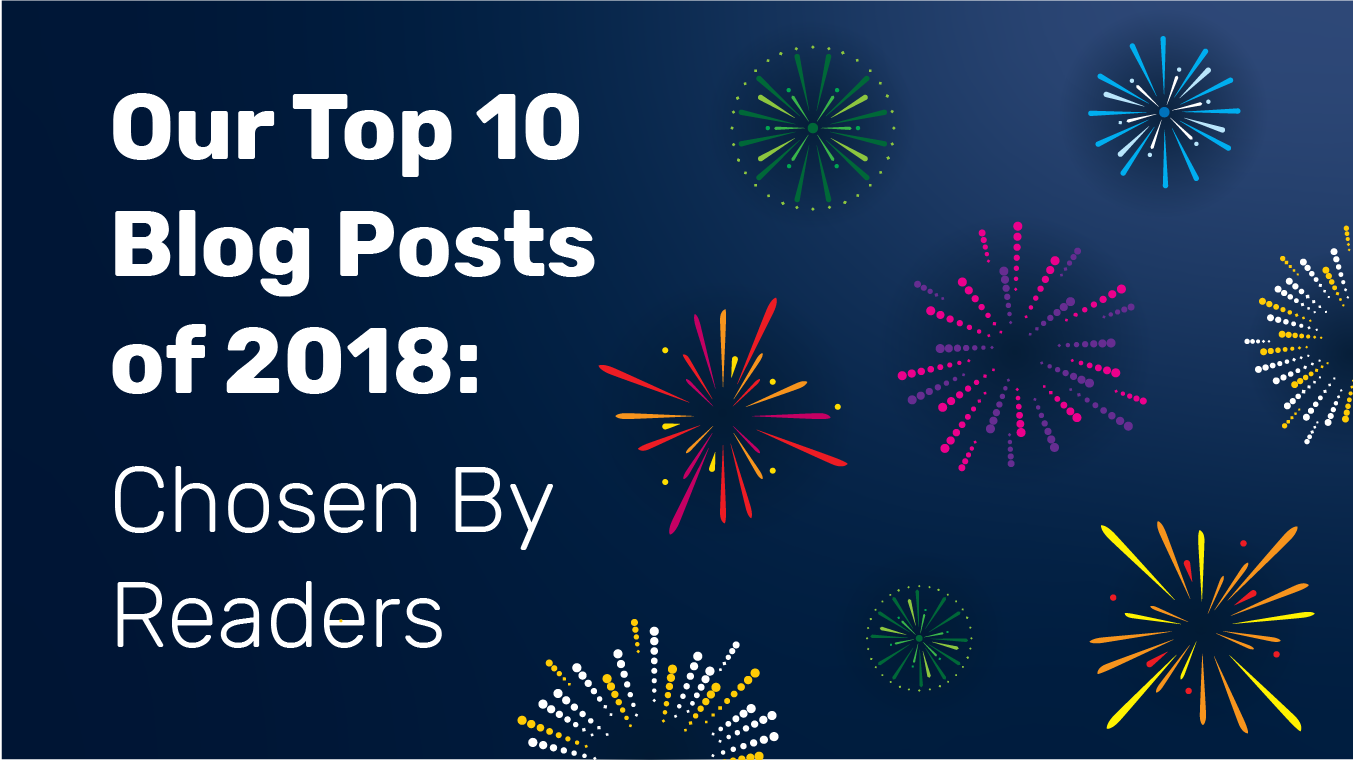 Well, 2018 has come and gone—and here at Intead, we're catching our breath after a busy year of developing academic recruitment plans, creating compelling marketing campaigns, helping clients assess their institutional strategies and international web presence...and, of course, dishing up blog insights week after week.
We have a feeling you've all been awfully busy too—maybe even busy enough to miss some of our most popular posts of the year! So, let's take a look back at which topics drew the most clicks in the past 12 months. Some are focused on nitty-gritty recruitment tips, some on big picture market trends, and some on finding inspiration in trying times. We are sure there will be at least a few topics in here that will make you think of a particular colleague who just might be able to use those insights. So, we've added a handy "Email this Post" button at the bottom of the page, just for those moments. Read on for links to the year's Top 10 hits.
For many academic institutions, 2018 was a challenging year for international recruitment. So, it's no wonder that many of our readers found resonance in this #10 post, which explains some simple ways to use data to your enrollment advantage. Click through for tips on how to...
Gather valuable insights into your market presence, for the cost of some pizza delivery
Get a sense of your global web presence, quickly and painlessly
Examine how many of your inquiries are leading to enrollments (and why)
Canadian competition for student enrollments is, understandably, on the minds of many American recruitment professionals. According to Inside Higher Ed, international enrollments rose 10.7% for Canadian institutions from 2016-2017, a period during which the U.S. saw a 7% decline. In this post, we reviewed the reasons that many international students are finding Canadian institutions to be an increasingly attractive academic option—and how American universities can stay competitive.
We often hear from clients that they understand the importance of customer personas...kind of. Personas are one of those wiggly topics that many folks have heard about, comprehend at a basic level, but also feel a bit embarrassed not to understand better. If that sounds familiar, no worries! We've got you covered. In this post, we reviewed the purpose and structure of personas, as well as one refreshingly easy step you can take to get started on your persona development (at last!).
When it comes to international student recruitment, China is anything but a sleeping dragon. The most popular destination for international students in Asia, China's success has hinged on two key factors: scholarships and jobs. Sounds straight-forward, right? Not so much. In this #7 post, we took a deep dive into the specifics of China's strategic recruitment success. There's a lot here for western universities to learn.
2018 has been a year of highs and lows for women. Watching the testimony of Dr. Christine Blasey Ford and hearing the stories that have risen out of the #MeToo movement, the past 12 months have in many ways been incredibly challenging—but even these struggles have highlighted female strength. Inspired by NACAC 2018, we took a moment to reflect on some of the women leading in the higher ed space. We shared insights and advice from some of these role models. Start your 2019 off right, and find new energy by reading this #6 post.
We don't know about you, but some of our favorite gifts from this past holiday season were of the stocking stuffer variety. You know what we mean—a nice new chapstick, some cozy woolen socks, our favorite checkout-aisle chocolate bar. Sometimes, it's the little things that mean the most...and the same is true when you are trying to make your international prospects and enrolled students feel comfortable. In this post, we covered some little steps you can take to communicate a big message: "You are welcome here!"
This was our 4th most popular post, and a big one for our Intead team. We unveiled Intead Plus, our membership service (still haven't heard about Intead Plus perks? You'll find details in the post!). We also shared our take on what attributes you need to look for when seeking reputable recruitment partners. We may be biased, but this post seems like a smart one to review as you start out on a fresh new year of enrollment efforts.
After a trip to Moscow for the Forum on International Education, Intead's CEO Ben Waxman reflected on the importance of global education even when governments collide. There are concrete ways in which recruitment professionals are helping to create a more connected, understanding global community. This one will remind you of why you entered this field to begin with.
WeChat, UniBuddy, CoursePricer, Concourse...how much do you know about these four hot tech platforms in student recruitment? In this post, we provide a quick introduction to tools that can help you recruit students more efficiently and effectively. Connect with your prospective students in China, chat with leads through a fun and easy communications platform, help international students understand the cost of your tuition and living expenses, and explore a new platform to help high school counselors match students with best-fit universities.
And our #1 post of 2018?
This post was the first in a two-part series on common recruitment mistakes (you can find Part 2 here). We reviewed some of the most dangerous errors we see enrollment professionals make during trying times. Knee-jerk budget cuts, hasty reorgs, poorly-planned pathway programs...we talked you through why these moves are so deceptively tempting, why they are ultimately misguided, and what best practices you should consider instead.
So, what do you want to hear about this year?
We're glad so many of you read our advice, and we hope it helped you find enrollment success in 2018.
Now that NYE's champagne flutes have been put back in the cabinet and our party hats have been recycled, it's time for us to start on our 2019 blog research. What posts do you want to see this year? What intriguing topics do you predict would make it to our 2019 Top Ten recap? We might want to hear from you!
Tell us your ideas in the comment box below, or shoot us an email at info@intead.com. Let's make this year our most insightful yet.