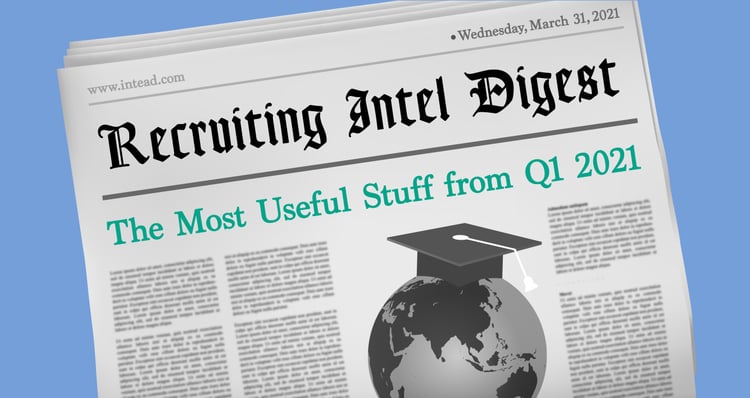 Pro tip: If you read only one of our blog posts every few months, make it this one.
Between application reviews and a little thing called budget season, we know you may not have kept up with the weekly posts and resources that we've shared here on the Recruiting Intelligence blog over the past few months. And we can't blame you!
From hosting webinar events in partnership with The Chronicle of Higher Education, CIEE, and iSchoolConnect, to publishing a market research report on the new Chinese mindset on US schools, we've been pretty busy ourselves.
So, we've created the Recruiting Intel Digest, a quarterly roundup post of the resources, downloads, and top insights we've published in the last three months which you can view, share, and download all in the span of your next coffee break.
All this with our signature focus on helping you produce stronger enrollment results based on trend data and marketing industry insights. You are so very welcome.
Read on for the latest Intead resources available to you — all in one place. Plus, a preview of what's coming next…
To Read
Is There a New Chinese Mindset on US Schools? eBook

This exclusive market intel will help inform your China recruitment strategy and hone your messaging and channels to reach your target audiences. The report shares our findings and insights from a recent survey we conducted with WholeRen Education of 20,000+ Chinese parents.

Download the eBook

here.

Using Tech to Thrive in a Volatile Time: 5 Key Takeaways PDF

How institutions make investments in technology is changing. This download includes the key insights from our February webinar discussion with your academic peers and The Chronicle of Higher Education in which we identified how to make smart investments in new technologies that help your institution survive (and thrive) despite the recent pandemic enrollment and retention hardships.

Download the PDF

here.

Colombia and South Africa Free Digital Marketing Case Study Download

Our latest digital marketing case study provides actual campaign results and performance data straight from our marketing dashboards. This type of data isn't typically shared by marketing agencies, but we think it's a valuable tool to help you benchmark your institution's own digital marketing performance.

Download all of our free case studies

here.
To Watch
The last three months have been full of thought-provoking webinar discussions on topics in EdTech and international student retention strategies with higher education leaders. If you missed the panelists the first time around, be sure to catch the recordings available below.
Using Tech to Thrive in a Volatile Time

Hosted by

The Chronicle of Higher Education

, Intead, and iSchoolConnect, this event will help you find the trustworthy partners you need to engage in complex technology integrations that can really move the needle and stabilize enrollment at your institution.

Watch

here.

EdTech: The Road Map Has Changed. Successful Implementation Processes Look Like This

Hosted by Intead and iSchoolConnect as a follow up to our

Chronicle of Higher Ed

webinar (above), this "Ask Us Anything" conversation gets practical, covering all things tactical implementation when it comes to technology on your campus. The key objective? Identifying how successful tech implementation really happens and how you can replicate that success.

Watch

here.
Blog Post Spotlight: How to Say No to Ideas That aren't Good Enough
Readers this quarter loved this early March post, in which we discussed the 5 key questions to ask yourself next time you're evaluating a new idea in order to maximize value for your institution. Included: how to define success, as well as how to prioritize ideas and align them with your institution's goals. This one really drew a lot of attention.
Coming Soon
Stay tuned in a few weeks for a webinar event with CIEE, Your Students. Your Programs. In China: Creating US-Style Classrooms for Your Chinese Students. We've been teasing this one for a couple weeks as we work on curating an all-star panel that will provide valuable market perspective for your institution's recruitment and retention efforts in China. You won't want to miss this. Drop us a note and you'll be the first to receive the registration link as soon as we go live.
(Oh, and we've got a significant report coming soon about India and student perceptions there. Shhhhhh! That one is still a secret ; -)