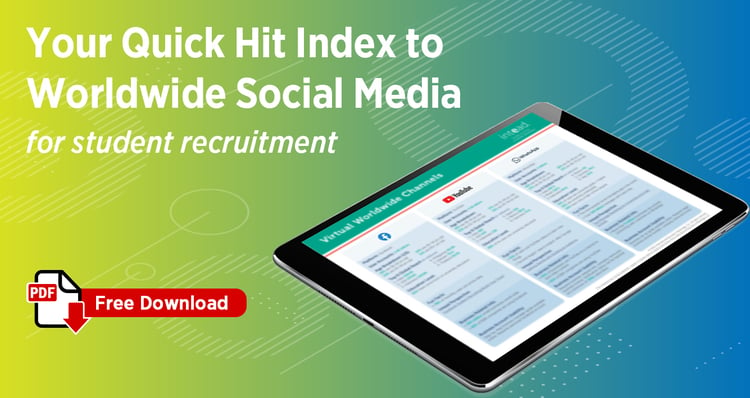 If social media isn't part of your student recruitment strategy, then, uhm, we need to talk.
[crickets]
Ok, good! Because of course social media is part of your strategy. Now, knowing which platform(s) makes the most sense and how much to invest for which audience segment in which part of the world, that's just a bit trickier. We'll give you that.
A useful tool for you would be a list of the major global social channels with key user stats and other perspectives to help you scan the options and focus quickly on what matters. Funny you should ask for that…
The Intead team (with special tip of the hat to our international student interns) offer you the next in our Intead Index series: Virtual Worldwide Channels Cheat Sheet.
You'll definitely want to download this one right now to support your team as you develop your international social media marketing plans. In a week, we will restrict access to this download to only our Intead Plus members.
Our Worldwide Social Media index provides a high-level view of the 15 most popular social media channels that boast the clearest paths for organic and paid marketing (sorry BeReal, maybe you'll be marketing-ready for our next index).
---
Just about your LAST CHANCE to Come with Questions and Leave with a Plan.
If you are attending the AIRC or ICEF Conferences - here is a huge plus opportunity.
The Intead/San Diego State University One-Day Workshop on December 13th will be a hands-on opportunity to learn from an awe-inspiring international student recruitment faculty.
A full day of international student recruitment strategy and execution discussion

Two luminary keynotes

Luncheon on Social Justice with Dr. Jewell Winn and Dr. Adrienne Fusek

Dinner on Chinese Student Influencers with Dr. Yingyi Ma and Brad Farnsworth

At $350 for the day (inclusive of all meals), this learning opportunity is a steal.
---
Join Intead Plus and your team can access this newest index and all our other Intead Index student recruitment essentials any time the need arises. Helpful as training and reference materials for your enrollment and recruiting team.
Ready to download your free copy of our Virtual Worldwide Channels index? Read on…
So, when you run your digital campaigns, you run a forecast in advance identifying all the key stats (Key Performance Indicators) as targets, right? And those targets are based on real internal and industry metrics, e.g., they are based on reality, not just guesses?
The Intead team provides these baseline forecasts with every campaign and tracks actual results against the forecast. In this way, every ensuing campaign improves. You have valid benchmarks and real data to demonstrate success or failure. Results that allow you to improve and grow.
And, as always, if you need help thinking through your social media strategy, be in touch. We know just how to connect with students wherever they are. We have the downloadable case studies to prove it.
And as promised, access your free Virtual Worldwide Channel Index by clicking here. We will be updating this blog post in a week and limiting access to this Intead Index to our Intead Plus members.
To learn more about Intead Plus, click here. An Intead Plus membership gives you insider access to our extensive library of recruitment intelligence materials, training tools for new recruitment staff, global recruitment planning worksheets, and more. The membership comes with discounted rates on services from Intead and our industry partners.