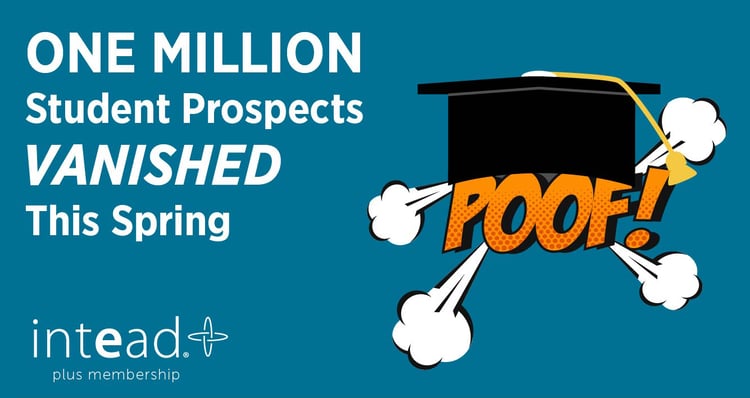 Just poof, gone!
But we know where they are hiding.
An excerpt from Jeff Selingo's highly anticipated forthcoming book, Who Gets In and Why: A Year Inside College Admissions:
"A student's name is sold by College Board, on average, 18 times over her high school career, and some names have been purchased more than 70 times…The coronavirus prevented more than a million first-time SAT takers in the high-school class of 2021 from taking the test this spring or summer. The canceled ACT/SAT doesn't only leave rising seniors lacking a score; it also results in the loss of names for colleges to fill the top of their recruitment funnel."
If you have typically used those purchased names to fill the top of your recruitment funnel…it's time to rely more heavily on digital marketing to generate those leads.
Generating your own leads instead of purchasing them produces prospective students who have clearly expressed interest in what your institution offers. Higher quality prospects produce more efficient, lower cost results. In the end, a streamlined recruitment process to fill your classes.
But contrary to what Facebook and Google might have you believe, a successful lead generation campaign is more than just a few clicks in an ad platform. You've got to have the expertise to set up your audience criteria and so much more.
If you are concerned about meeting your enrollment targets, may we suggest a bit of help from the Intead team and our Intead Plus resource library?
Our Intead Plus members have access to the worksheets and data that help them justify their student enrollment marketing plans and craft targeted, ROI-positive campaigns. A year-round resource, Intead Plus offers strategic support, data analysis, recruitment planning, student personas, and industry perspective.
Oh, and did we mention that we are offering steep Intead Plus membership discounts to state consortium members? Study Illinois started the trend and now it might be available to you.
If you are a member of your state consortium, be in touch: info@intead.com.
Read on to figure out where those 1M students went and how you can reach them.
A Facebook Business Manager Account ≠ Advertising Strategy
If digital marketing has not worked for you in the past (we all have horror stories of poor ROI), it is likely the process rather than the medium. Facebook, Google and other media platforms have every reason to convince you that this stuff is easy — add a headline and the ads will practically create themselves! They'll even make sure you are reaching your target audience!
Really?
Using these automated tools, your ads are strikingly similar to your competitors but with a different logo. And what kind of results will you get? Likely exciting "reach" numbers and very little in the way of high-quality conversions.
Not Enough Talented Hands
You've seen this play out, right? The consistent distraction of competing priorities. Enrollment conversion suffers. Fingers start pointing. Revenue takes a hit. Excuses are made. Eyes roll. Sometimes, heads roll.
It doesn't have to be like this. The right investment in the right process with the right, focused, talented team will produce enrollment results.
Here are some questions to consider as you develop your campaigns to reach those 1M missing student prospects:
Do you know your target audiences?
Do you know how your target audience segments interacts with your brand digitally?
Do you have engaging content that speaks specifically and differently to your target audience segments?
Do you have the trusted team to make your content strategy happen?
If you answered "No" to any of these questions, here's how our Intead Plus subscription services can turn each "No" into an emphatic, "Yes":
Market Intelligence: Building your digital marketing strategy starts with understanding your institution's value proposition in the context of the greater market and where that market is headed. As an Intead Plus member, access our full library of recruitment intelligence materials, including eBooks, podcasts, whitepapers and all of our latest industry reports, so that you can stay informed, 24/7. This includes our seminal release, 88 Ways to Recruit International Students, now in its second edition – a great educational tool for new enrollment staff.
As a member you'll be the first to receive our latest publications currently in the pipeline for summer 2020 release:

Predictive modeling for student success
Artificial intelligence for student recruiting
Brand new Intead index comparisons of chatbots, texting tools, English teaching and testing services, and,
One more that we aren't allowed to tell you about yet ; -)

All that content along with the Intead Plus annual Google Analytics report

on your institutional website to help you understand where your visitors are coming from (regions and referral sources)

and

which web content is resonating with them.

One-on-One Consultations: We know the goals of your institution are unique. We also know that a basic report filled with numbers and charts won't help you achieve those goals. With your annual Google Analytics report, the Intead Team will conduct a 60-minute meeting with your team to explain exactly what these numbers mean for your institution and offer customized recommendations for improvement.
Partnerships: We're stronger together. With your Intead Plus membership you'll receive discounted services from some of the biggest names in student recruitment including CIEE,

iSchoolConnect

,

AIRC

, ECE, and

FPPEDUMedia

.
Those missing student prospects aren't going to find themselves. We can help you create the campaigns that will bring them to your door.
Not sure if Intead Plus is right for you right now? Get in touch at info@intead.com to discuss your specific case and we'll help to sniff out some leads.
And for more industry perspective: pre-order Jeff Selingo's book here.