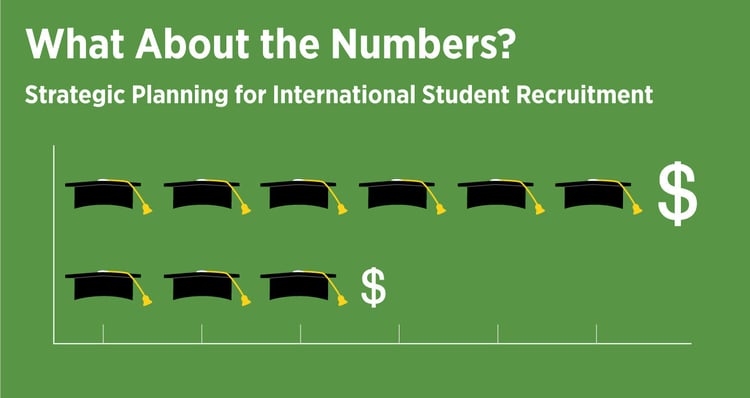 Astute readers of last week's blog post about creating an international student recruitment strategic plan would have noticed the lack of results data. With this post, we take a look at the numbers for the three institutions discussed: SUNY, SNHU, and Full Sail University. To round out today's analysis, we added to the mix: Green River College, Kent State University, and University of Cincinnati.
A results analysis cannot look at numbers alone. So many factors play a role in the success of any marketing effort over time. And when that marketing effort is global, well, being attentive and nimble is critical.
Having on the ground intel is so important. Having people to rely on who "get it" is so important. Having a sound marketing strategy is only as valuable as your ability to execute (see our recent post about Marketing Culture for valuable insights).
---
Upcoming opportunities to learn:
October 5

, NAFSA All-Region Summit: UMBC and Intead present "0-60 Internationalization" NAFSA Registration Link

October 12

, AIRC hosted Webinar: Technion Israel Institute of Technology and Intead present "Shifting Student Perspectives: Digital Marketing Now" AIRC Registration Link
---
Today, we will focus on some VERY interesting numbers – international student enrollment and the economic impact (thank you IIE and NAFSA). We will also consider:
The people: few teams stand the test of time (cue Carole King's "So Far Away" #ShowingMyAge)
The environment: the pandemic wreaks havoc for everyone (well, almost everyone)
We really think you will want to read on.
All the institutions we will look at today are AIRC members and have invested in building a targeted recruiting agent network. Note in last week's post that each institution had their 2014 agent tactic fall somewhere in the upper left quadrant (low cost, high efficiency).
Also worth noting, each institution also had "armchair recruiting" on the left side of the chart (low cost) with varying levels of efficiency.
If these tactics are not familiar to you, or you want to consider the many other options available, you may want to take a look at our compendium of international student recruiting tactics: "88 Ways to Recruit International Students." Intead Plus members download for free. Or you can find it on Amazon.
The bottom line: If you are not an institution with a strong global brand (and institutions well beyond the top ranked have strong global brands, as our analysis demonstrates), investing in a range of marketing tactics produces results.
Worth noting: only two of the six institutions we look at today are in the big five states that support an institution's global brand awareness. Which states are those? CA, TX, FL, NY, and MA. Admittedly, CT is also in the ranking since it falls so conveniently between NYC and Boston.
Want some digital campaign results to prove our points? Useful to compare your own results whether they are produced by your internal digital team or an outside marketing agency. We show you what we track and the digital results with a range of country-specific campaigns.
Seven Years of Numbers
So, we took a look at each of the three institutions from last week's post and, given their strategy back in 2014, considered — how did they do over the past 7 years?
As our benchmarks, we looked at 2014 and 2018 (pre-pandemic) and then we looked at 2020 to see how their strategy held up in the face of Covid. We added three more institutions to broaden the academic programs and types of institutions represented.
Note that from 2014 - 2018, all six institutions saw growth in international enrollment. All but one showed declines from 2018 – 2020.
Note on sources and calculations: All of this data relies on EEI's Open Doors reports and NAFSA's calculation using IPEDs data estimating that each international student represents roughly $31,000 in economic impact from tuition and living expenses. Also important, there are 64 SUNY institutions as of 2021. For our analysis, since the SUNY strategy discussed was from their system-wide global office, we created a composite of the 24 SUNYs that reported international student data consistently to IIE in 2014, 2018, and 2020.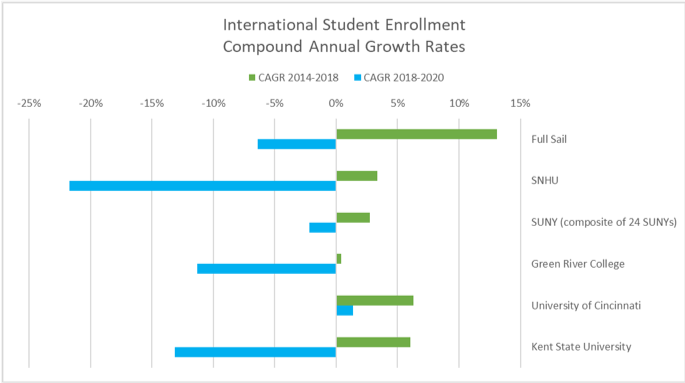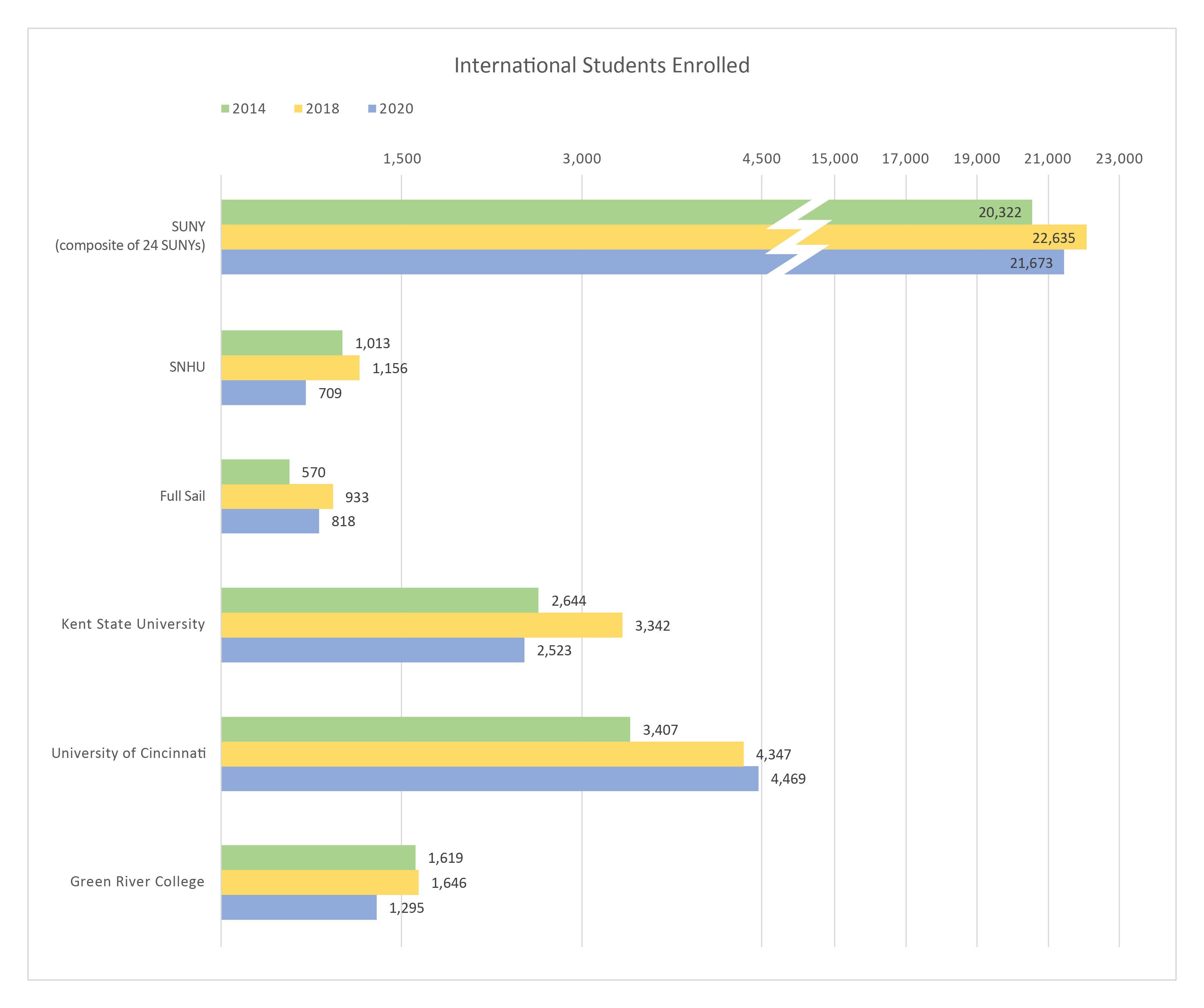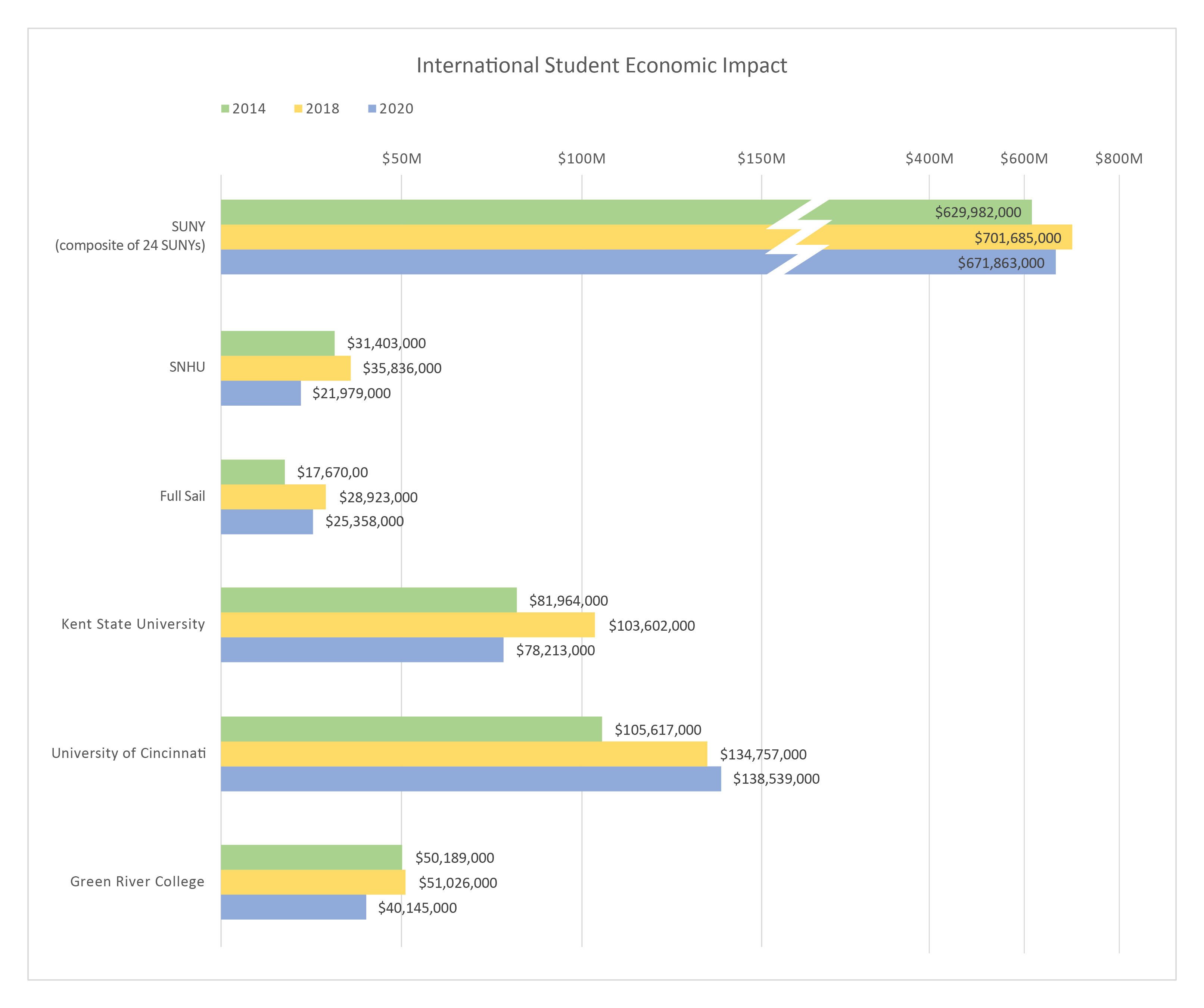 People Over Time
Over the years since 2014, most programs have seen leadership and staff changes. It is important to recognize that the 2014 strategies we learned about did not remain steady over the years. They did not operate in a vacuum. While each of these institutions continue to use the tactics identified in last week's charts, the prioritization of one or another, the investment in each, and the people in charge all changed over time. Only Cincinnati has the same person in charge of international in 2014 and still today.
Did you notice in the charts above? Cincinnati is the only institution in the set that showed growth consistently between 2014 – 2020 (no downturn between 2018 – 2020). Coincidence?
(We appreciate that we are still in touch and connected to each of these incredible professionals in international enrollment management despite all the twists and turns. Howdy, y'all!)
The power of people driving strategy and execution is everything. As they say in Silicon Valley, An A team running a B plan will win over a B team running an A plan. Consider your team carefully if you are serious about success.
This advice applies to your internal team and your partners/vendors. Choose those who know the field well and have demonstrated the level of industry knowledge and expertise your institution needs. Many talk the talk.
The Challenging Environment
We've all been through the wringer together since 2020 and the onset of Covid globally. Yet institutions around the world addressed the situation very differently. And almost every institution saw internal unrest regardless of the path chosen.
Faculty, administrators, students, and parents all have very strong and frequently conflicting opinions. Not to mention national and local government and public health officials weighing in. Really hard to please everyone.
What was common to all was a global set of students suddenly re-evaluating everything. The value of academic programs, the ability to travel safely, the process of acquiring a visa, the ability to pay tuition. So many student considerations suddenly chaos infused.
See our prescient post about student considerations from April 2020 here. Still applicable in terms of understanding the factors on your students' (and their families') minds along with prolonged stress, mental health concerns, and a strong desire to gather.
Student Decision Making has Changed
Remember our comment about having a team that can be nimble and is in touch with the global market trends? Our analysis of the numbers above considers 2014-2018 as one period and then 2018-2020 as something new.
From our studied point of view, we are not out of this chaos yet. The calculations students and parents are making are still in flux. And the likelihood of health and visa restrictions coming and going globally for the next few years appears pretty high. That perspective comes from global epidemiology experts with deep medical knowledge about transmissible diseases, virus mutations, vaccines, etc.
When the future is in this much flux, long-range marketing plans and forecasts become much more speculative due to the unpredictable/uncontrollable factors that influence results. Nevertheless, those institutions that don't make the effort to continue reaching out to international students will be far behind those taking proactive steps and capitalizing on the opportunities that have and will continue to develop. Recall Cincinnati's stand out performance since 2014.
What To Do
Find partners with the expertise to help your institution be more nimble. Think eight years forward. Your decisions matter. Those in your position at your institution in 2030 will thank you for what you push forward now.
For more information on developing a holistic approach to international student recruitment, please be in touch.