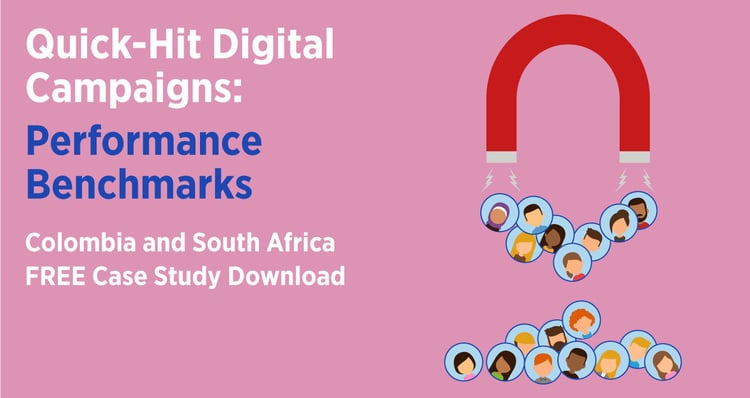 We can't dive into our digital marketing insights this week without first acknowledging where we are right now here in the US. As human beings, we share an acute craving for security. Such a strong desire for a return to "normal".
This desire for safety cannot stand in the way of our need for change. We, as a community, stand for diversity of thought, culture, and expression. We stand for academic exploration and shared knowledge.
Our team brings the fortitude and commitment to stand day after day and stare straight ahead. We will continue to embrace opportunities to be in this community together, with each other and for each other.
Remember where to look when you need support and encouragement. Courage grows with numbers. We will be here, standing up for our shared ideals for as long as we are able.
And with that weighty and heartfelt commitment to all of you, we will turn to the business of the day with a much lighter tone—
We don't usually endorse cheating off your neighbor's paper, but today, we're making an exception in the spirit of moving us all forward.
We're excited to share this work with you: actual digital marketing campaign results from a campaign we recently ran for a US institution targeting international student prospects in Colombia and South Africa. We're offering you a case study with real, granular detail straight from our marketing dashboards to help you answer digital marketing's most common questions:
Am I doing this right?
What should I measure?
What does success look like?
Read on for a case study snapshot and to download the full version for yourself. We're talking real performance data here, including top performing creative assets, actual CPC, CPM, and conversion data, and more.
2020 was a rollercoaster, and 2021 still has us strapped in. The crucial enrollment questions remain: In challenging times, how do you invest in growth? How do you manage the risks (financial and otherwise) inherent in your investments? And, how do you focus your institution on efforts that produce tangible results?
The answer to all of these questions begins with having the data, performance insights, and the team talents to inform your plans, assess areas for improvement, and adjust your strategy quickly and effectively. Performance benchmarks from the field, like those included in this case study, are invaluable signposts to your own improvement and success.
We've shared similar case studies for past digital marketing campaigns in Kenya and Ecuador, as well as India, Brazil, and the US on this blog before (also available for free download at the end of this post if you missed them the first time around). Other marketing agencies rarely share this stuff publicly. Most won't even share this level of insight with their other clients.
ICYMI (in case you missed it): we recently hosted a webinar with our friends at iSchoolConnect featuring a panel of experts including leadership from Google, Babson, Dartmouth, and Northeastern, to discuss those growth-focus investments we've been talking about. (Key takeaways PDF from that conversation available here (totally worth the click)).
A key insight from that discussion? Smaller, modular investments (i.e. quick projects with quick wins and minimal risks) are becoming ever more crucial elements of institutions' growth strategies in these uncertain times.
Quick hit digital campaigns, like the one included in this case study, can provide those quick wins, as well as provide quick-turn insights to drive continuous improvement and help justify larger investments to leadership down the road.
Why You'll Succeed
When your team watches the campaign process from strategy to asset development to launch and results analysis…
When your team sees results exceed initial forecasts…
When all of this is communicated clearly with outcomes measured…You build alignment around the initiatives that can transform your institution. You build the buy-in and collaborative spirit that top performers extol.
This can be your institution.
As we've said before, what we really want are campaigns that run for 18-24 months at a minimum in order to build awareness, collect data, and acquire conversions. However, we know budgets do not always allow for long-term digital campaigns. Until of course, the quick hit campaign demonstrates the potential.
Moving forward on quick-hit, highly focused digital campaigns for your target audience is a valuable step in the right direction. And moving forward on these campaigns with an experienced team in your corner to build, monitor, and track the results? Baby steps…with a jetpack.
This Week's Case Study: Campaign Benchmark Snapshot
Institution: US community college with just under 19,000 students (undergrad and grad) located in a small urban center on the northeast edge of the Midwest.
Intead Services Provided:
Strategy: Recruitment and campaign strategy development, positioning and media plan

Creative Assets: Content creation (Facebook, Instagram and Linked In awareness and lead gen ad sets with video, webinar promotion, landing pages and downloadable content offers, lead forms, email nurturing campaign)

Campaign Management: Campaign forecast, launch, monitoring, and analytics reporting
Recruitment Targets: Colombia and South Africa; selected based on Intead proprietary market research.
Academic Programs Promoted: 2 year CIS (Computer and Information Systems), with transfer opportunities to 4-year Business and 4-year Engineering.
Initial Media Buy: $10,000 USD
Time in Market: 14 weeks
Results: 2,365 qualified international student leads generated (almost 5X the predicted forecast) at an average cost of less than $5.00/lead
For more campaign results and insights, download the new 2-page case study.
You'll also have the option to download our past case studies for Kenya + Ecuador and India + Brazil + US in the same download form if you missed them the first time around.