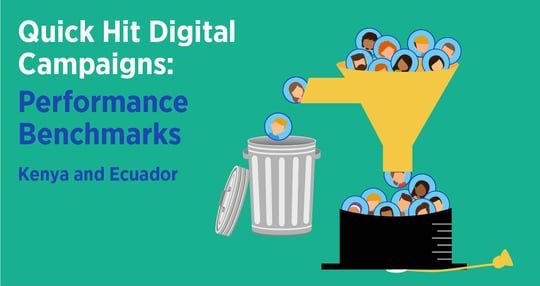 How much of a media budget do you need to succeed with your digital student recruitment campaigns?
The answer: Benchmarks are the signposts to improvement and success. When you run campaigns, you capture the data that tells you how to improve.
For the next few weeks in this enrollment management series, the Intead team will share what marketing agencies rarely, if ever, share publicly: real campaign results to help you know if you are doing things right.
Just looking at some of our recent enrollment marketing campaigns for a range of institutions, we have targeted student audiences in Kenya, South Africa, Ecuador, Colombia, Brazil, Italy, France, India, and of course, the U.S. More campaigns on the horizon will target recruitment stalwarts: China, India, and South Korea as well as Australia and Canada.
Do you see any of your target audiences in this set? Thought so.
Pro tip: you'll want to share these posts with your team. Better yet, get them to subscribe to our blog.
Read on for perspective on setting leadership's expectations for future success, what to throw into a campaign (talent and budgets), and the real, detailed benchmarks to measure your performance. Yes, all of that (but you have to read to the end to get it ; -)
Now, we really want campaigns that run for 18-24 months at a minimum. This is how you build awareness and acquire the all-important conversions (student enrollment). However, we all know there is best practice and then there is actual practice.
While a small percentage of academic marketing departments put real money into long-term, sophisticated digital campaigns with tracking and continuous improvement processes, most institutions do not.
Here's the leadership challenge: often, academic institution leadership have significant fear of marketing investments and struggle to invest in enrollment marketing. Fear of the unknown stops them (and past failures don't help).
The enthusiasm we see to fund new buildings and other major campus investments that represent progress also represent significant risk. Smaller, but still sizable investments in enrollment marketing are seen as too risky…as if the other larger ventures are not. We've been watching this dynamic for a long time. It stems from a lack of knowledge about marketing.
Offering up a team of friendly, knowledgeable experts with supporting data can help everyone understand the process, especially when everyone can review reliable forecasts (be in touch: info@intead.com).
Here's the implementation challenge: doing the upfront analysis of your market and audience that will guide your strategy and positioning. Couple that with dedicated, experienced marketing campaign talent.
What you want to avoid is sloppy targeting, mundane content and ineffective campaign management and lead tracking that results in, well, none of the data that helps you improve over time and justify those larger budgets. In that less than ideal scenario, you'll get that look from those around you. You know the one that says, "I knew it wouldn't work."
If that is not your experience on your campus, count yourself among the fortunate few.
Our point: set leadership's expectations. This is not a one-off, quick hit digital campaign. This effort needs long-term funding even if the initial media spend is going to be just $20,000- $30,000 to confirm the content and channels that will work best for each segmented audience.
Let them know that you will use this initial investment well and you will track everything. Important to note that it really is not about the flashy marketing. (SO many other agencies pitch this stuff, tirelessly, nauseatingly). It is about measured results. Your CFO is right on this point.
Really, what is the alternative? The same old enrollment marketing efforts that are showing declining results? Pouring your budget into direct mail? Talk about diminishing returns.
Justifying The Investment
Most institutions are just breaking into digital marketing with somewhat knowledgeable staff and minimal ad budgets. In the world of marketing, $20,000-$30,000 is almost nothing. But, it is enough to learn from and justify bigger budgets.
Typically, those making significant and sustained investments in enrollment marketing are focused on professional studies and online certificate options for non-traditional students. Once they start running these campaigns, they continuously improve and generally see their ad budgets remain relatively constant or grow. That right there is proof that success lies in making these investments. Why spend it if the investment is not performing?
Important note: they continuously improve because they have the experienced marketing staff setting the strategy, creating the content, setting up the tracking, and monitoring the campaigns daily. All of which prompts continuous tweaking and leveraging. This is not, "Let's boost our Facebook post with $15 and see what happens."
Very recent reports show a significant uptick in academic digital ad spends in just the past few months due to COVID-19. Some institutions are taking a cue from the 2009 Great Recession and the uptick in enrollment among career changers that occurred during that stint. The thinking: When people lose their jobs, they will invest in themselves and come out on top when the economy turns around.
It happened in 2009. Seems rational.
The personal savings rate in the U.S. hit a historic 33% in April this year, the U.S. Bureau of Economic Analysis recently reported. With a high level of economic uncertainty, people are hoarding cash assuming more bad news may be around the corner. Yet, with 40M+ currently out of work in the U.S. alone, things appear to be quite a bit different than 2009.
What does all this uncertainty point to? Benchmarks and testing.
Let's Get Into It
Key questions you want to answer before you launch the campaign and re-evaluate throughout and after the campaign:
Are we hitting the right audience?

Are we paying the right price for our digital ad impressions and clicks?

Are we getting the results we want?
Start small and confirm that you know whom you want to attract and convert. Your ads cannot be stale or looking just like your competition. This is marketing – make yourself shine or don't invest the money.
To go beyond reach and acquire conversions, images, video snippets, headlines and landing pages all need to speak to your specific target audiences. The upfront market analysis is key. To state the obvious, all student audiences are not the same.
We've been at this for a long time and have many campaigns to refer to as we plan our next steps into existing markets and new markets for any client – domestically and globally.
Our case study with benchmark data this week comes from a US mid-tier public institution with just under 10,000 students (undergrad and grad) located in the middle of the country.
Benchmark Snapshot
Institution: US mid-tier public institution with just under 10,000 students (undergrad and grad) located in the middle of the country.
Intead Services Provided:
Strategy: Recruitment and campaign strategy development, positioning and media plan

Creative Assets: Content creation (Facebook and Instagram awareness and lead generation ad sets, landing pages and downloadable content offers, lead forms, email nurturing campaign)

Campaign Management: Campaign launch, monitoring and analytics
Recruitment Targets: Kenya and Ecuador, selected based on Intead proprietary market research
Academic Programs Promoted: Mostly STEM
Initial Media Buy: $15,000 USD
Time in Market: 8 weeks
Results: 680 leads generated (33% above forecast) at $22.06/lead (25% below forecast)
Far more campaign results and insights when you download the 2-page case study.
And come back next week for another one.