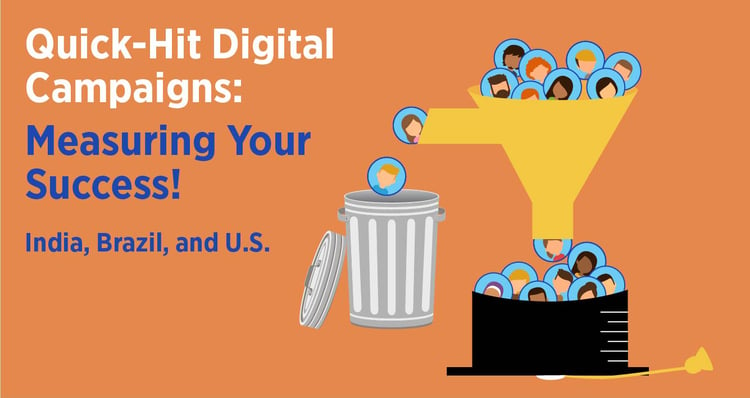 Listening to a radio interview this past weekend, I heard a fantastic analogy from a recording artist describing why she collaborated with others on her most recent album:
When you go to the playground and bounce the ball off the wall by yourself, you know how it will bounce back to you.
Collaborating with other talented people produces more than you can produce by yourself. And it often produces the unexpected bounce that takes your project to the next level. Today we will look at a digital marketing case study for a campaign we ran in India, Brazil, and the U.S.
This is our second post in our enrollment management series addressing the question of how much of a media budget do you need to succeed with your digital student recruitment campaigns?
The answer: Benchmarks are the signposts to improvement and success. When you run campaigns, you capture the data that tells you how to improve. Collaborate with us and we will help you get the desired campaign bounce (not bounce rate – that's something entirely different ; -)
We are providing our community with case studies offering a level of detail you simply do not find out there. We look at case studies offered up on other websites and often we are perplexed by what their definition of "case study" is. What we are providing: actual campaign results to help you know if you are doing things right.
Our recent enrollment marketing campaigns for a range of institutions have targeted student audiences in Kenya, South Africa, Ecuador, Colombia, Brazil, Italy, France, India, and of course, the US. Campaigns on the horizon will target recruitment stalwarts: China, India, and South Korea as well as Australia and Canada.
Pro tip: you'll want to share these posts with your team. Better yet, get them to subscribe to our blog.
And here is a link to last week's Intead Blog and Case Study about Kenya and Ecuador in case you missed it.
Read on for perspective on the talent and budget needed to make your next digital student recruitment campaign even more successful.
As we mentioned last week, and it bears repeating, what we really want are campaigns that run for 18-24 months at a minimum. This is how you build awareness and acquire the all-important conversions (student enrollment). However, we all know there is best practice and then there is actual practice.
While a small percentage of academic marketing departments put real money into long-term, sophisticated digital campaigns with tracking and continuous improvement processes, most institutions do not.
Use the link above to our case study post from last week to read about setting leadership expectations and convincing them that your student recruitment campaign budget request is worth it.
Beyond the budget, you need the strategic campaign approach and the tactical skills to implement and track.
If you are launching your campaigns without the following, your results are not nearly what they could be:
Upfront analysis of your market and audience that guides your strategy/positioning,
Dedicated, experienced marketing campaign talent that includes skills in:

Messaging – skills in writing long form and ad copy
Design – skills in static and motion graphics and videos for landing pages, emails, digital ads, downloadable content
Campaign building – skills in audience definition/selection tools (awareness, lead gen and conversion ad campaigns), results forecasting, ad placement
Campaign analytics – skills in monitoring and tweaking digital ad activity during the course of the campaign and analysis of the results.
You'll find sloppy targeting, mundane content and ineffective campaign management and lead tracking will produce exactly what you would expect. Costs less to do. Results in nothing of real value.
To connect the dots here: to continuously improve your campaign results, you need staff setting the strategy, creating the content, setting up the tracking, and monitoring the campaigns daily, all of which prompts continuous tweaking and leveraging.
This Week's Case Study
Key questions you want to answer before you launch the campaign and re-evaluate throughout and after the campaign:
Are we hitting the right audience?
Are we paying the right price for our digital ad impressions and clicks?
Are we getting the results we want?
We've been at this for a long time and have many campaigns to refer to as we plan our next steps into existing markets and new markets for any client – domestically and globally. These reference points really help.
Campaign Benchmark Snapshot
Institution: Elite EU-based institution specializing in PhD and Master's programs in geo-political topics and global diplomacy located in an attractive and major European city.
Intead Services Provided:
Strategy: Recruitment and campaign strategy development, positioning and media plan
Creative Assets: Content creation (Facebook, Instagram and LinkedIn awareness and lead gen ad sets with video, webinar promotion, landing pages and downloadable content offers, lead forms, email nurturing campaign)
Campaign Management: Campaign launch, monitoring and analytics, CRM support
Recruitment Targets: India, Brazil, and U.S., selected based on Intead proprietary market research.
Academic Programs Promoted: Launching a new Master's program in trans-national governance.
Initial Media Buy: €19,000 Euro
Time in Market: 12 weeks (with a few pauses during the campaign)
Results: 1,585 leads generated (87% above forecast) at an average cost of €12.08/lead (67% below forecast)
For more campaign results and insights, download the 2-page case study.