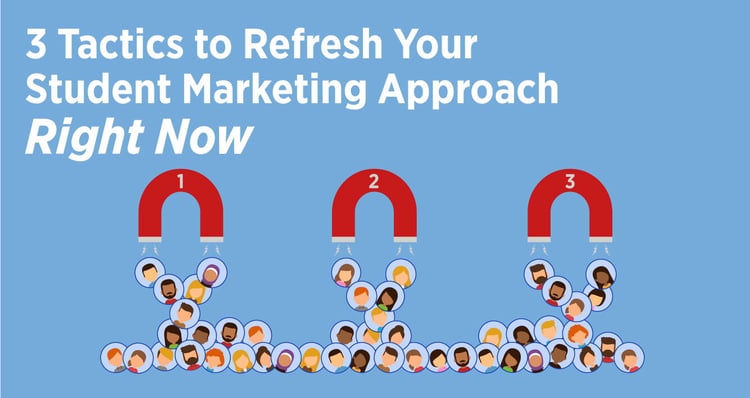 You don't need to be a CMO to know that there's more to attracting students than coming up with a pithy headline for your Instagram ads and postcard mailers.
And yet, what we often see are institutions full of creative minds doing the same marketing initiatives year after year, not really realizing how they appear to their target audiences.
At the end of the day you want your institution to stand out in a field of sameness, ubiquitous blather, and endless repeats of campus images and smiling students with backpacks and laptops. You want to highlight your institution's differentiators and deliver the right message to a targeted audience at the right time.
But we get it — whether it's lack of budget, time, or most likely, both, swapping out last year's campaign photos, shuffling around your headlines, and hitting a few buttons in Facebook Ads Manager are sometimes the only levers that are in scope. And establishing a feedback loop of performance analysis for continuous campaign iteration and optimization? An even more distant goal state.
So, before you reach for that updated "smiling student with backpack" image to juice your Fall 2021 recruitment campaigns, turn your attention to today's post: 3 recruitment marketing ideas to help you reach students where they are right now.
We're talking specifics on topics, audience, tone, and dissemination channels for campaigns that can set your institution apart and attract and nurture those high-quality leads you're looking for. And what would an Intead blog post be without an insight on how to use your data better?
Throw these ideas to your creative team and see if something valuable emerges from the brainstorm session. Something that truly fits your institution.
Read on.
Clearly these approaches will need your institution's special sauce to make them your own. More than simply putting your brand colors on it, there are a few things about your ability to give students the experience and value they seek.
Idea 1: Top of the Funnel – Attracting New Prospective Students
Campaign: We Act Now to Ensure Our Future
Goal: Build affinity with students highly motivated by environmental action.
Rationale: A significant percentage of the current student demographic makes purchase decisions (from shampoo to college degrees) influenced by an organization's efforts to improve the environment (carbon footprint, etc.). This campaign can certainly attract students interested in pursuing this field of study, but that is not really the point. There are many (many, many, many) students today who have non-environmental study and career goals who feel a strong connection to organizations that make an effort to improve the environment. Need convincing? Check out the rise of allbirds.
Tactic: Digital ads lead to a landing page and lead capture form.
Dissemination Channels: Paid Facebook and Instagram ads with appropriate audience criteria settings.
Messengers: Inspiring and enthusiastic faculty and current students.
Tone: Serious and scientific, perhaps a little bit playful. Authentic and action oriented. Draw attention to your institution's culture of climate action and as a steward of the environment.
Content: Images, statistics, institutional goals and achievements, and current efforts/initiatives related to environmental action. Highlight awards, research, and faculty involved to support the message. Warning: if your institution has nothing real to show here, don't pursue this option.
Idea 2: Middle & Bottom of the Funnel – Drawing Them Closer
Campaign: Your Safety First – Our Covid Story or How We Managed Covid (in 3 minutes)
Goal: Build confidence in your institution's decision making and leadership – drive students with demonstrated intent towards conversion over other options they are considering.
Rationale: Those considering your institution want to know and will appreciate an authentic and empathetic short story. Their parents will too. This is one of a variety of conversion messages to interested students, not the only message.
Tactic: Short form video.
Dissemination Channels: Link to video shared via: Email, SMS, paid social (Facebook, Instagram, YouTube, TikTok (if you are able))
Messenger: University Provost
Tone: Authentic, caring, encouraging with decisive, effective leadership. Present a student-first approach. Assume academic quality is a given and don't go into detail here -- avoid the tendency to make every video hit all the points about how great your institution is. Stay focused on this topic.
Content: Video story arch
Set the scene: acknowledge your institution as a great place to study by emphasizing your institution's safety- and student-first approach
Describe your timeline and actions taken since March 2020
Explain your results – student academic success, online/hybrid learning options, infection rate, etc. in context, i.e., "while the region was like this, we were like this (i.e. better)".
Explain the care available for students who become ill. Mention proximity of relevant, high-quality care facilities on campus or nearby. Mention student support and mental health services.
Explain what students can expect for Fall 2021 and beyond:

Classroom
Housing
Activities

Re-emphasize your institution as a great place to study
Idea 3: Building Enrollment Diversity Through Strategic Use of Data
Maybe you're already feeling good about your digital recruitment marketing campaigns. Great! But how often are you reviewing your performance data? And what about analyzing that data against your current enrollment funnel data and your website's Google Analytics metrics?
Cross analyzing this data, and even better, marrying this institution-specific data to Census and College Board data can help you pinpoint regional pockets within 120 miles of your institution that contain truly valuable source markets not yet on your radar. Doing this right is more important now than it ever has been. Drop us a note, and we can talk through how you can make this work for your institution's enrollment planning with diversity efforts front and center.
The share button below is perfect for sending these ideas to your enrollment colleagues. And we are here to help make these approaches materialize for your institution if you are short on hands.
Curious to learn more?
Stay tuned for next week's post in which we'll outline specific strategies to help your institution make better use of your College Board data with Intead Research Advisory Board member (and Former Senior Director of International Strategy & Outreach at The College Board), Clay Hensley. We can guarantee that your institution is not using all of College Board's tools as effectively as you could be.