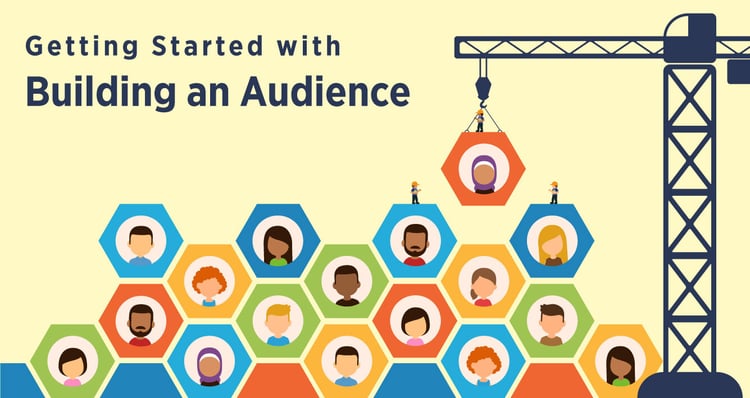 In the higher education space, your institution is competing with so many options that prospective students have. We know that most students attend a university within 50 miles of their home while large state institutions and the elite options have a stronger draw from coast to coast and beyond.
With these realities in mind, today we consider a foundational marketing goal: building a receptive audience so you can nurture prospective students from the point of awareness and inquiry to enrollment, no matter where they reside.
To state the obvious: virtual tours and informational webinars have taken on a bigger role (fewer campus visits), so a robust and engaging digital presence has never been more important to your recruitment process. Has your team evaluated and adjusted your approach to the student journey? Meeting them where they are in each step of their decision-making process?
We've offered a number of educational posts on student journey mapping processes you may want to read (for reference: our recent series Tracing the Student Journey Part 1 and Part 2).
We'll be talking about these enrollment management and student recruiting approaches and so much more at #NAFSA22 in just a few weeks. Let us know if you'd like to schedule a coffee with one of our team. We are leading 4 NAFSA sessions this year and one of them received the honor of being selected for live broadcast. Watch this space for details and we hope you can join us.
For now, read on for our top recommendations on how to build an audience online.
Find your voice and present it consistently
Branding is how your institution is perceived by others, and it should reflect your values and overall "voice." We're willing to bet your institution's brand is already well established. But is it being presented consistently?
With the growing list of platforms upon which your brand plays, it's easy for your brand's voice to get lost in the shuffle, diluted, or twisted into a pretzel. Perhaps it appears differently because different folks are in charge of different channels. It's your job to ensure it doesn't. We won't call you the brand police (they get such a bad rap!), but consistent branding across platforms is how you communicate what your institution stands for and what type of student will succeed there. It has everything to do with the type of student that ends up applying to your institution.
A quick and dirty audit of the many channels upon which you appear may be worth your time. Maybe delegate this task to a student intern. If you trust them to have good judgment and can give them a clear audit process, their view will be invaluable and instructive to you and your team.
Leverage your social media audience (beyond organic posts)
According to a recent study by TargetX, 58% of aspiring students use social media to research schools. And honestly, that sounds pretty low to us. But the point is, your prospective students are on social media. Not only that, they are likely investigating a slew of institutions using their preferred social platforms. So take your brand to them.
Yes, keep your brand current and active using organic (free) posts. But that will only take you so far. If your goal is to build up your audience using organic initiatives, then you are at the mercy of your existing followers liking, sharing, commenting, or otherwise interacting with your posts. Most efforts won't go much further than your existing network.
Paid campaigns expand your audience. Paid advertising gives you more control and better opportunities to gain the kind of audience you really want, allowing you to target age, geography, interests, and more, depending on the platform.
Hey, and don't forget YouTube as a channel. Some institutions are knocking that one out of the park! Have you taken a look at your YouTube channel stats vs. your competitors? (start here: https://socialblade.com/youtube/).
Search and they will come
The other best way to build your audience online is through search engine marketing. Like social platforms, you'll want to consider the free way and the pay-to-play way. Most marketers manipulate both.
The free way is through search engine optimization, which are the rules most marketers follow to improve their rankings in search results. SEO can involve a range of strategies that include reducing your website load time to regularly publishing keyword-optimized blog posts. It requires a significant effort in creating/publishing a lot of very specific content and building backlinks to that content. Building an audience via SEO doesn't happen overnight, but it's a sustainable way to help grow a loyal audience over time.
Be aware, the old days (a decade or more ago) of simply inserting your keywords throughout your website content will not cut it today. Search algorithms are far more sophisticated and your approach to developing, organizing, presenting, and linking content will need to be more sophisticated as well. Add to that the artificial intelligence that now customizes search results based on each individual's search habits and you start to understand why SEO is an increasingly challenging proposition.
The paid counterpart to SEO is paid search advertising or Pay Per Click (PPC). Tools like Google Ads let you run ads based on search queries like "top-ranking universities" or "undergraduate environmental science programs" and help you capture visibility and clicks.
The top keywords will cost a lot. Send us a note and we can find time to discuss alternatives and more segmented approaches using the channels your prospective students are using regularly (podcasts, gaming, and the like).
Don't discount user-generated content. Use it! Promote it!
User-generated content (UGC) refers to photos, videos, or text that your students post about your institution. Because it's created by someone already at your school (or associated with it such as your faculty and alumni), user-generated content is one of the best ways to show an authentic side of your university to your audience.
Importantly, Mavrk reported in 2017 that UGC featuring a brand generated 6.9X higher engagement (read views and sharing) than brand generated content (that's the stuff coming out of your marketing department).
Hashtags are a great way to encourage students to post their own content that you can then easily find and repost (and track! Always track!). It's a bit of a slow churn in terms of audience building, but it's an easy and free way to capture followers who may not yet be fully in your social media circle. Make sure to always ask for permission to publish user-generated content to your university's digital channels. #smartidea #soeasy #free
You can also optimize your social media management platforms (e.g. Hootsuite, Salesforce Social Studio) to alert you when any faculty or staff names or topics related to your institution are shared organically. Commenting and engaging with those posts will help attract eyes to your channels. Students appreciate the authentic engagement in their posts, especially when supported by the institution itself.
Know which platforms provide the most play for you
So many platforms. So little time. Be strategic with where you spend your time by understanding which campaigns work and which do not. There's no point spinning your wheels on multiple platforms when your audience has clearly demonstrated they'd rather see you on Snapchat or Tik Tok, or YouTube. It has to do with tracking engagement and conversion.
As you consider your institutional and departmental goals, know that some channels work best for long-term engagement and awareness (TikTok) and require regular content management. Others may be better for building your student pipeline and quality web traffic (Facebook, Google). So, yes, think about your audience, but also consider your goals and resources so you can get the most out of your channels.
Keep this in mind: high engagement with no conversion increases brand awareness without meeting revenue goals. That's ok, as long as you have other initiatives that are targeting leads further down the funnel and you are nurturing leads and pushing conversions in other ways.
Of course, online audiences are fickle. So, what works with one cohort may not work for the next. That's why it pays to partner with an insights-driven marketing agency that can give you an edge when it comes to recruiting and retaining students. Yes, that was a shameless plug, but it's also a fact.
If you'd like to explore ideas with us and figure out how we can support your team, be in touch.