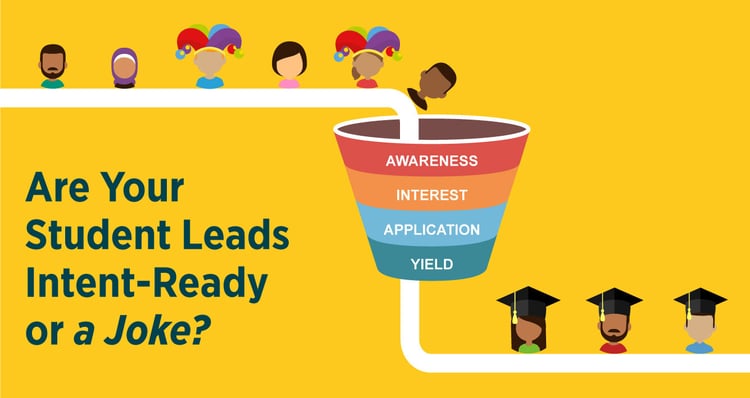 It's late. A Friday. And the undergrads are relaxed and thinking out loud, among other things undergrads tend to do late on a Friday night.
"I don't know. Maybe I should do an MBA program instead," one says.
"Ya. Why not? You're like really good at business," a friend weighs in.
So, they search "top-ranked MBA programs in the US."
You already know the student recruitment platforms that pop up based on that Google search. They choose the top result and start browsing around. They enter their name, give an email address. This is the lead you will get when you purchase the lead generator's services in one package or another.
The platforms lure you in with beautiful numbers. So many student visits per month. Amazing.
How intentional are these leads? How many will convert?
Come Monday, your lead is back on their pre-med path. And all you're left with is a useless email address.
Now, every institution has junk leads. Even with the best platforms. The fact is, there are just so many "solutions" out there, all claiming to boost your enrollment numbers. It's hard to know which ones actually move the needle, and which are peddling false enrollment growth for you and your team.
---
Come with Questions. Leave with a Plan.
If you are attending the AIRC or ICEF Conferences - here is a huge plus opportunity.
The Intead/San Diego State University One-Day Workshop on December 13th will be a hands-on opportunity to learn from an awe-inspiring international student recruitment faculty.
A full day of international student recruitment strategy and execution discussion

Two luminary keynotes

Luncheon on Social Justice

with Dr. Jewell Winn and Dr. Adrienne Fusek

Dinner on Chinese Student Influencers

with Dr. Yingyi Ma and Brad Farnsworth
Early Bird Pricing Extended One Week. With many of our colleagues telling us they are still seeking approval to attend, we are extending the early pricing until October 31. At $200 for the day (inclusive of all meals), this learning opportunity is a steal. (Pricing goes up to $350 on November 1, 2022).




---
Now, back to lead generating platforms. If you're scratching your head over the swath of lead generators out there, rest assured you're in good company. From what we've seen, there's total confusion in the marketplace. Your best bet is to take a step back and look at the enrollment tools you know you need (responsive social media presence, mobile-ready content, reliable online chat). From there, you can better evaluate the many platforms with clear eyes. Read on…
How many solicitations do you get every day from digital companies promising to connect you with quality leads? We're sure it's more than enough. If they all did what they say they can, you'd be swimming in prime leads. Sure, some platforms actually do provide really useful services. None are a panacea though. And you'll need consistent and creative follow up to get the quality leads to convert.
How to know which lead generator might be right for your institution? Start by asking your team these key questions:
#1. Where is our recruitment falling behind and does this platform help us address that?
Keep the tail from wagging the dog. Know your goals and work with platforms that can address them head-on, without creating new problems by introducing unnecessary tools more apt to solve the platform's problems (selling high-end packages) than yours (gaining new best fit students).
#2. What is this platform's track record in our target markets and student segments?
Every digital service provider will tell you they work wonders all over the world. But that's just not so. Sure, digital is accessible everywhere. Reality is that different platforms are strong in different parts of the world and less strong elsewhere. Ask the questions and get the answers. What is the breakdown of their many student visitors each month? What are the demographics? The geographics are just a part of the equation.
#3. Is this platform the best way to connect with our audience?
Is it a platform that will serve your needs or is it a marketing partner you really need? What will drive the enrollments that will succeed in your academic environment? Enrollment management and recruitment require a holistic approach that relies on a range of channels with performance strength in different regions around the world. No singular platform can make that happen. Consider a strategic review of your goals, your resources, your messaging approach, your channels, and your results before committing to an alluring platform.
Enrollment growth awaits. Knowing what to scale and where to invest your limited resources is challenging stuff. Our 3 Essential Budget Questions offers a bit of useful guidance to help you evaluate what you have and what you may need to improve.
Let's find the path to avoiding junk leads and investing in what has real value to your enrollment program. We know some real lead drivers. :) Be in touch.