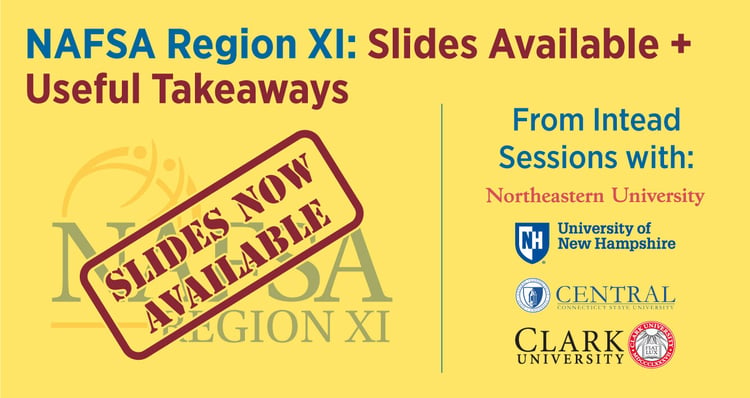 Here's a quick tease: has someone with a brilliant marketing mind approached you about using influencer marketing to promote your institution? Let us be perfectly clear: it's a mistake for academic institutions to do this to their brand.
However, there are ways to steal the critical thunder from this growing advertising trend and make it work for academia. Intead conducted a pilot with Northeastern University and the results are here for you to chew on. Great food for thought.
---
We're sharing the slides below, but honestly, slides only go so far. It's the discussion. So yes, grab the download, but if you really want to learn from us and improve your student recruitment game, dive into our San Diego Workshop coming up in December.
Seats are disappearing quickly and we are limiting participation to ensure everyone has access to our amazing workshop faculty. Questions will be answered. Intense discussions will be had, with insight and data. If you've not taken a look at the program and the faculty, learn more here…seriously, take a minute and check this out. Opportunities to learn from these experts don't come around often.
---
Today we shout out to our colleagues old and new at the recent 2022 NAFSA Region XI. This kind of regional connection and cross-colleague learning is invaluable. A common theme to our 3 presentations and our poster session this time around was how our information can help you explain the value of your work to the powers that be at your institution. What we can add to your justification for budget and other resources to achieve institutional goals.
Below you will find our 2022 NAFSA Region XI session slides showing off the expertise of our presentation partners, thought leaders all:
Kirsten Feddersen, Assistant Vice Chancellor of International Enrollment Management, Northeastern University

Kathleen Simenson, Director of Admissions, University of New Hampshire

Zongxiang Mei, International Education Coordinator, Central Connecticut State University

Sarah Lopolito, Assistant Dean for International Programs, Director of the International Center, Clark University

Iliana Joaquin, Digital Marketing Manager, Intead
Read on to build your case for how your institution can succeed in a competitive market.
Below you will find the link to download our three NAFSA Region XI slide decks and context for our poster session.
Session 1: International Enrollment Data and Practices
This must-have presentation with the University of New Hampshire and Central Connecticut State University walks you through the global data and perspective that makes the case for investment in internationalization. You'll appreciate the approach to cost-benefit analyses of your international student enrollment and retention programs using readily available data from multiple resources.
Session 2: Finding and Managing Brand Ambassadors for Student Recruitment
In this presentation with Northeastern University, we discuss the difference between influencer marketing and brand ambassador marketing. Tap into the marketing power of the new generation of content creators and lean into the authenticity that will resonate with your target student market (and their parents).
Session 3: Adapting Recruitment Efforts in Times of Crisis
Here, we teamed up with Sarah Lopolito from Clark University to review lessons learned from managing through a crisis and how we can make decisions that are true to our mission and vision through it all. Clark University took specific actions and made valuable adjustments that continue to feed internationalization efforts. Bold innovation while others sat on their hands.
Poster Session: Developing a Strategic Advantage for Enrollment
We presented our analysis of how building flexibility into your recruitment strategy is essential given the global challenges we all face today. This LINK will provide the poster graphic and one of our most popular blog posts assessing the value of various levels of student recruitment investment institutions are making.
Want even more insight? Be in touch. We'd love the chance to help you think through your upcoming international or domestic student recruitment campaigns. From strategy to execution and everything in between. Will you be among the fortunate few to join us in San Diego? Register here.