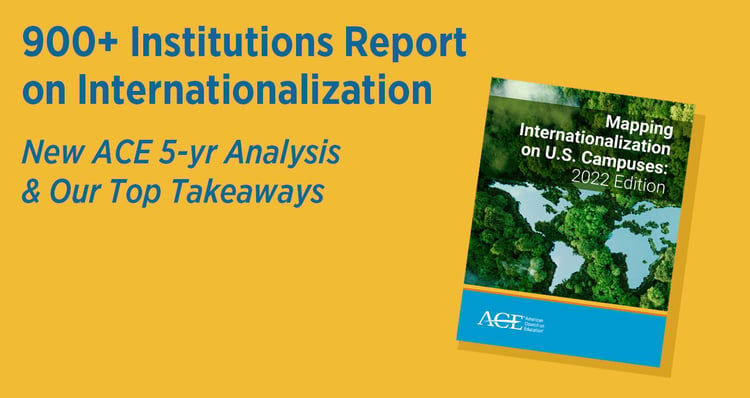 This month the American Council on Education (ACE) released the 5th edition of its signature "Mapping Internationalization on U.S. Campuses" report. Some say it's the most dynamic edition yet as it lays bare both pre-pandemic and COVID-era trends to reveal our collective internationalization priorities during a particularly precarious time.
But let's be honest, it has been a precarious time here in the US and globally since 2016 at this point. According to one data point, COVID crashed internationalization (our words, not ACE's).
Consider this: In 2011, the percentage of respondents who said their institutional internationalization was "very high," "high," or "moderate" was 56%, rising to 66% in 2016, 64% during 2016-2020, and 40% in 2020-21.
Clearly travel limitations, from the basic human fear to actual travel cut offs, that COVID brought had a clear and significant impact on student mobility (obvious) and institutional responses. Yet, the international community turmoil brought on by the US and other nations' broad and deep political upheaval since 2016 has changed the landscape in terms of regional student mobility and study option perspectives as well.
Overall, a very steep decline. But not the full story. And the latest IIE data release helps tell that story. But, one report analysis at a time. There are only so many words we can all digest in one sitting. And our 5 key findings below will set you up for some great conversations with your internal colleagues.
---
50% off ($400 savings) on Intead Plus Complete membership for all registrants attending our Global Marketing Workshop in San Diego. Deadline for this offer is Friday, Nov 18, 2022.
If you are attending the AIRC or ICEF Conferences - here is a huge plus opportunity.
The Intead/San Diego State University One-Day Workshop on December 13th will be a hands-on opportunity to learn from an awe-inspiring international student recruitment faculty.
A full day of international student recruitment strategy and execution discussion

Two luminary keynotes

Luncheon on Social Justice with Dr. Jewell Winn and Dr. Adrienne Fusek

Dinner on Chinese Student Influencers with Dr. Yingyi Ma and Brad Farnsworth

At $350 for the day (inclusive of all meals), this learning opportunity is a steal - basically free when you factor in the 1-year Intead Plus membership.
Come with Questions. Leave with a Plan.
---
As Dr. Maria Claudia Soler, ACE's senior research analyst, learning and engagement division (research), and lead author of the report, told University World News in a November 8, 2022, article, "While the pandemic impacted internationalization across the board and many internationalization activities were disrupted, we also observed serendipitous outcomes. For instance, institutions used technology to expand virtual international internships, international student recruitment and course-level collaborations in ways that used to be unthinkable some years ago."
Nodding? You should be. Even without the data, we know this to be true. It was a wild ride and pretty much every surviving institution learned how to adapt, and quickly. Most are better for it. But that's a different post.
One question we want to see added to the survey and report next time around: the role of the CFO in all of this. How connected to (and aware of) the internationalization priorities are they? Budget approval is key to internationalization efforts. Presidents, Provosts and SIO are all reliant on a CFO's leadership and insight.
Today we share 5 key findings from the report that really popped for us. And we offer our take. Read on…
Global engagement is foundational to higher education, and ACE's "Mapping" report (download it for free here) assesses the state of global engagement at American colleges and universities, including analysis of progress, trends, and future priorities. The 2022 edition involves data from 903 institutions. It's a thorough look at the trends that shape the work we do every day. We encourage your team to download it soon and flip through.
And we tip our hat to ACE for producing these reports consistently for the benefit of our community. Five-year look backs are incredibly valuable for any large initiative and so few of us take the time to do that kind of reflection with a focus on improving the future.
Recently, I had the opportunity to walk through the Institute for Contemporary Art at Virginia Commonwealth University in Richmond while attending the AIEA Internationalization Budgeting Workshop and noticed this: "You have to go back to what we were before you go forward to what we want to be." ~ Artist David Hammons.
5 key findings that really stood out for us from the ACE report:
Key Finding #1: The push forward was already slowing. Winners invest for the long-term.
ACE notes that institutions showed high levels of both resilience and agility in the face of the challenges presented by the COVID-19 pandemic.
Our Take: The levels of resilience and agility were surprisingly high from our point of view. As one SIO shared with us during the pandemic, "When crisis hits at our institution, our leadership response is 'all engines full stop!'"
Important to note that the recent acceleration of internationalization campuses were pushing since roughly 2010 was already waning by the time COVID-19 appeared. In 2016, for instance, 72% of the study's respondents reported internationalization as accelerating to a "significant degree" or "somewhat." This stat fell to 47% by 2020 and 21% during the pandemic. Yikes. These numbers concur with National Student Clearinghouse Research Center numbers and likely your own campus statistics.
But if you're like most (smart) institutions, you're playing the long game. Which is why it's so important to keep your eye on the ball. Especially now. Maintaining a sharp focus on internationalization – via recruitment efforts, curriculum, programming, delivery methods, etc. – will make all the difference as we continue to climb our way out of the COVID crisis.
A key point that needs to be conveyed to leadership (and this is not new but there is more data to support it): Those institutions investing for the future will be the winners. Those setting aside funds for a 1-year, "test the waters" internationalization and global recruitment effort (we see this ALL the time), will fumble, stumble, and fall. Prior research from NAFSA and IIE shows that 33-45% of institutions see a decline in international student enrollment in any given year. Common characteristics of those increasing? Sustained investment in internationalization – from recruitment to program development.
Key Finding #2 (a twofer): Diversify your source countries and create flexible international experience options for all students.
Increasing mobility, both inbound and outbound, remained a top priority. 65% of responding institutions target China, 52% India, 46% Vietnam, and 42% South Korea. And just 34% reported increases in study abroad program participation compared to 45% reporting increased participation in 2016.
Our Take: Prioritizing international markets is always important, but diversifying your approach to mobility is imperative - increasingly so. We've talked about this at length in our recent posts on Africa (read part 1 and part 2) and will again next month in a series on Latin America. In short, develop relationships in markets that make sense for the programs you offer. It will enrich your campus experience and help hold steady your enrollment as hot sending markets cool.
Looking at it from an outward bound perspective, US students are expressing a real need for flexibility when it comes to mobility. For a myriad of reasons – the pandemic, world events, modern busyness – flexible programming is gaining traction at a faster rate than traditional study abroad. Both are important, but adapting to students' needs is proving strategic for our clients. There are movements afoot to make Study Abroad programs even more attractive to students. A near future blog post - stay tuned.
Key Finding #3: Ugh! Our community is unable to focus on the data that informs
While metrics and collective reflection inform a strategy for institutions to advance internationalization, only 28 percent of institutions reported having assessed the impact of their internationalization efforts in the last three years. (So low!) Who's taking stock: 34% of special-focus institution respondents, 32% doctoral institutions, 32% of baccalaureate, 27% of master's, and 20% of associate institutions.
Our Take: We can all do SO MUCH better. As the study's authors put it, "ongoing assessment, measurement, and self-study are the foundations of data-informed decision-making for internationalization goals, progress, and outcomes." Or, as our favorite data analyst Iliana puts it, "measure everything!" In order to get where you're going, you must know where you've been (thank you David Hammons). So set goals. Measure them. Take time to analyze, gather, and reflect. Reassess and improve.
This is the work the Intead team does with all of our clients, consistently. The value is clear. And there is always so much pressure to simply move forward without the thoughtful, curious evaluation. Sigh.
See this post for perspective on measurement and entering new student markets.
Key Finding #4: Yea! Student-first perspectives are growing.
The data revealed increases in the types of institutional support provided for international students between 2016 and 2021, including student orientations (from 69% in 2016 to 75% now), individualized academic supports (up from 60% to 66%), and orientation to the US and local community (from 63% to 66%). And, 54% offer mental health services for international students, a new data point on the survey.
Our Take: Keep students first. In all of it. And we're heartened to see that so many institutions get it and are taking steps to create a welcoming environment from points of first contact on through the student experience and student success (retention efforts, anyone?). In the midst of lean times, leaning in on what students need to feel welcome, seen, and heard does so much for them completing their studies successfully. Which, not for nothing, improves both retention and future yield. Keep it up! (Find our recommendations on student first approaches here).
Key Finding #5: The future is always bright for those who plan for it.
Looking forward, survey respondents were optimistic about their institutional global engagement efforts. 66% of respondents anticipate their institution's overall level of internationalization will increase in the coming 5 years. Their internationalization efforts will include international student recruitment, learning abroad opportunities for US students, and the internationalization of curriculum. Of note, only 28% had specific global learning outcomes for all students.
Our Take: We, too, are optimistic. Yes, the work we're engaging in tells us institutions are committed to investing in their culturally enriching programs. And the conversations we're having personally and out and about (like at the upcoming international student recruiting workshop in San Diego 😉 absolutely tell us our industry is thinking in the right direction. Diversifying source countries, focusing on student experience, and developing programming that help students become career-ready are all front and center in institutional plans.
Are you surprised we didn't talk about the report's section on institutions' use of technology? Our read there: no significant insights. Just what we've all been talking about for a while now.
Future Focus: Need a partner steeped in where this work has been and where it is going? We know a talented team able to help you think through your internationalization strategy and then execute on the plan. Be in touch.