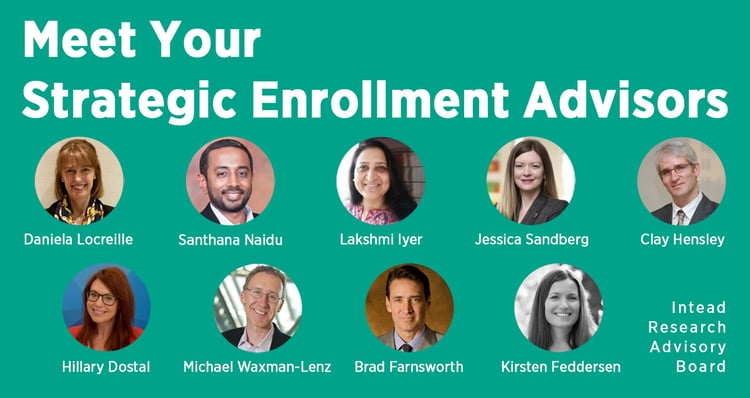 As an education professional, you know deeply the power of a knowledgeable guide to expand your mind, challenge your beliefs, and push you to new heights.
Whether this guide takes the form of a favorite professor, dean, mentor, colleague (or a favorite blog), even the most experienced leaders among us can benefit from a little outside perspective and wisdom from time to time (read: always).
For Intead, that source of wisdom is our recently expanded Intead Research Advisory Board, a veritable who's who of education industry leaders who guide our student recruitment and enrollment research on both domestic and international approaches.
Don't worry, we're not just here today to sing their praises (although we could do that all day) or talk about how they help us look smart (although they do). ;)
The truth is, the Intead Research Advisory Board isn't really for Intead. They're here to serve you. With their expertise, we are able to provide you with fresh and deeply knowledgeable perspectives and new research and insights on topics that drive our industry and your institution forward. We're ever grateful for their valuable work.
Read on to learn more about this powerful line-up, how their wealth of experience can help to power your institution, and the market intelligence we are working on and presenting soon.
The Intead Research Advisory Board consists of nine industry leaders, including:
Brad Farnsworth

, Principal, Fox Hollow Advisory

Clay Hensley

, Former Senior Director, International Strategy & Outreach at The College Board

Jessica Sandberg

, Dean of Enrollment at Duke Kunshan University

Hillary Dostal

, Global Marketing Advisor at Pegasystems

Kirsten Feddersen

, Senior Director of International Enrollment Management at Northeastern University

Lakshmi Iyer

, Executive Director & Head of Education at Sannam S4

Santhana Naidu

, Vice President for Communications and Marketing at Rose-Hulman Institute of Technology

Daniela Locreille

, Higher Education Consultant, Career Coach and Small Business and Culture Consultant

Michael Waxman-Lenz

, Chief Executive Officer at American Technion Society (and co-founder of Intead)
As Intead has more than its share of globally-focused data nerds on staff, this is a fantastic group for us to turn to for a fresh look at domestic and global student trends and a whole lot of laughter over all our travel stories. And with members hailing from five different countries, including professionals currently based in, or with significant stints in both India and China, there are quite a lot of travel stories to share!
In addition to their diversity of geographic perspective, Research Advisory Board members also bring a diversity of professional perspective to the table. Members include:
An enrollment professional known for her leadership of the national #YouAreWelcomeHere campaign (everyone knows who that is, right?)

A former vice president of global engagement at the American Council on Education (known by 100s of SIOs)

A member of the AIRC Board of Directors (2nd term!)

And… one co-founder of Intead! (hats off to Michael!)
(Check out the full RAB member bios here to match these fun facts to the members.)
Our recent publication of data and insights from 1,000+ Chinese parents reflecting on the value of a US education is one example of the timely research we produce. This one is being downloaded by your colleagues at a rapid clip — quickly rising to the top of our download tracking charts.
Coming soon: a similar report presenting fresh insights from prospective students from India about the value of a US education. We'll also be presenting two sessions at the Annual NAFSA conference:
The value of global campuses and how to implement them in a nimble, flexible way (presenters: Intead with CIEE and Massachusetts College of Health and Pharmacy Sciences University); and

The challenges and successes of taking your university's internationalization efforts from 0 to 60 (presenters: Intead with University of Maryland, Baltimore County).
We have a few other surprises up our sleeves that we are still curating based on market conditions. Always with you in mind and thinking about what we can produce that will make you that much more effective at your work.
All of our research and our conference presentations benefit from our conversations with our Research Advisory Board members. Our readers and clients profit from their collective wisdom.
Watch this space for our first RAB-member post in the coming weeks with Clay Hensley, an industry leader with more than two decades of experience supporting the international engagement of higher education institutions globally. As the Former Senior Director or International Strategy & Outreach at The College Board, Clay will be sharing incredibly valuable perspective on how to optimize those College Board list purchases we all rely on. We'll be giving pointers on how to achieve higher conversions, as well as market insights on the future of College Board data. You won't want to miss this.