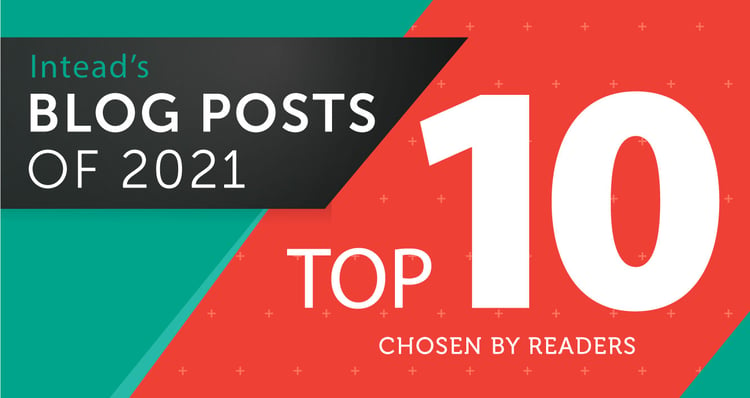 Enrollment professionals around the world tapped and clicked throughout 2021 looking for insight. They found it here on the Intead blog and now you can see what resonated most. Presenting, our Top 10 Blog Posts of 2021.
It was a tough year with far too much ambiguity. Intead's global network kept readers abreast of what students and parents are thinking and how marketing messages can reach them.
Would you like a cup of coffee in New Orleans with us at AIEA? We'll be there and look forward to a busy schedule. Be in touch if you'd like to connect. We have a few amazing restaurant recommendations we can share, assuming that kind of gathering is safe and comfortable by the time the event rolls around.
Read on for our Top Posts of 2021 (links included). Great for sharing with your team to help them think creatively about their respective roles and assignments.
10. Student Recruitment Platforms Or…DIY
Student recruitment platforms are an industry staple, but are you using them effectively? Is there value in purchasing the same leads every other institution has? Including your competitors? Or can you invest in building your own private lead pipeline with prospective students selecting your specific institution? Turns out, you already have it built.
9. LATAM Recruiting Series: Insights on Brazil
This was the first in a powerful LATAM market overview series and readers dove in with good reason. LATAM markets are increasingly attractive as travel from Asia remains more challenging. Beyond Brazil, the 4-part blog series covered: Mexico, Ecuador, and Colombia.
8. 10 Ways to Develop a Strategic Advantage for Enrollment
When facing global flux, your most valuable skill is adaptation which requires flexibility. Enrollment leaders took our chart and recruitment perspective to their planning meetings as they evaluated their plans for 2022 and beyond.
7. Our NAFSA 2021 Slides Now Available
In October Intead presented at NAFSA (virtually) with two sessions sharing perspectives on the most valuable internationalization efforts and how to achieve greater global marketing flexibility. Readers who could not attend the conference snapped up the slides with 2022-23 plans in mind. Our partner presenters sharing insights this time: CIEE, Massachusetts College of Health Sciences (MCPHS), and University of Maryland, Baltimore County (UMBC).
6. How to Say 'No' to Ideas That Aren't Good Enough
Having a team filled with ideas can both be a blessing and a curse. When considering your 2022-23 budget, thinking through the value of one idea over another can be challenging. And staff buy-in is critical to your chosen plan's success. Readers found our five key questions worth asking as you decide what is worth pursuing and what is not. We happen to know that this one got shared a lot.
After giving concrete perspective on creating a strategic plan for international recruitment with a 6+ year perspective, astute readers asked about the numbers that drive planning decisions. And so we gave them the numbers. Based on the clicks, they said, "That's very helpful." But, those same clicks said, "Planning perspective is even a bit more helpful." (see #4 below).
4. Developing a Strategic Plan for International Recruitment
We looked at what was top of mind for 6 institutions' global recruitment plans in 2015 and how those plans might be playing out today. THAT was clearly an interesting read.
3. Student Recruitment Mistakes of the Desperate Part 1
Back in 2018, we published a two-part "Mistakes of the Desperate" series, discussing the all-too-common mistakes we witness academic leaders making as they navigate enrollment challenges. That was before a pandemic surrounded us and ate into our global growth plans. Seeing the desperation of many around us, we updated the series for our new realities. Readers flocked to it.
2. Slate Users Speak: Getting Real About Technolutions' CRM Platform Part 1

So many institutions have moved to, or are moving to, Slate as their CRM. As this enrollment management tool has evolved, the value of using it has become clearer, as have the pitfalls. Is it still the most desirable option out there? Our readers wanted to find out. Our discussions with Slate users enlightened.
And our #1 post of 2021? Drumroll please…
1. Chinese Students, We Are Listening
As enrollment numbers and recruitment efforts related to China took a nosedive during 2020 and 2021, hate crimes against Asians in the US climbed. We published primary research on what Chinese parents were thinking about the value of a US education. Not surprisingly, enrollment professionals found this post the most valuable as they navigated the new realities and sought to make their campuses accessible, welcoming, and safe to this important community. A can't miss blog post and eBook download. "Is There a New Chinese Mindset on US Schools"
We Want to Hear from You!
Let us know which of our top 10 readers' choice posts gave you valuable insights. Reach out (info@intead.com) or add your thoughts to the comments below.