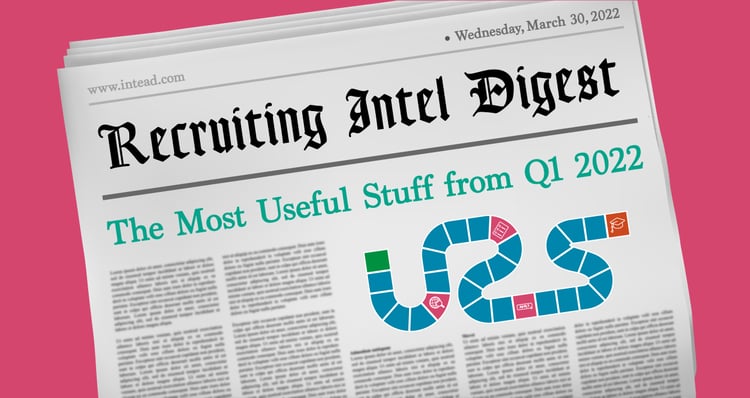 The first quarter of 2022 dealt its fair share of surprises, and then some. The pandemic loosened its grip (for the time being). Northern Europe was thrust into a war. These events are deeply personal and deeply tied to our everyday work in higher education. And then there were the everyday surprises courtesy of another enrollment and budget planning season. Still, the world kept turning and we kept acting on the opportunities we see for improvement in everything we are able to touch.
In the midst of all this, you may have missed a few of our top posts. No matter! We're here to point you in the right direction. Read on for our quarterly recap of the most valuable stuff from Q1 2022 and the Intead resources available to you.
And, if you'll be attending the NAFSA 2022 in Denver (May 31-June 3), be in touch so we can set aside time for a coffee and exchange of ideas. We'll have 4 NAFSA presentations all covering different aspects of global recruiting. One of them has been selected by NAFSA for live-stream to give more folks access to the amazing panel that includes Benedict College, Clark University, and CIEE. More on that in the coming weeks.
What's the Story Behind Your Data?
There's so much richness behind data analysis. However, it's not very often that institutions fully explore the data already available at their fingertips. In this insights-packed two-part series (read part 1 here, part 2 here), Intead Chief Strategy Officer Patricia Tozzi shares how she approaches the inquiry into all the data that surrounds us, including the valuable and free resources you may not realize are available.
Spotlight on Your Institution's Student-First Approach
We talked to students and our academic colleagues leading enrollment to get the inside scoop on what a student-first approach really looks like. Fabulous insights from: David Hautanen at St. Mary's College of Maryland; Jessica Sandberg, at Duke Kunshan University; Dr. Jewell Green Winn at Tennessee State University; and Brad Farnsworth, of Fox Hollow Advisory and former VP at the American Council for Education (ACE). Read more here.
UPDATED: Country Comparison Cheat Sheet, 2022
You won't reach students in China using the same tactics you use to reach students in Brazil. Or Nigeria. Or anywhere else. It takes more than a tweak in ad copy to woo prospects from different countries. Our Country Comparison Cheat Sheet will prompt your team's creative process and set the framework for your next international push. Download it for free.
5 Lead Nurturing Best Practices for Universities and High Schools
In an ideal world, you would personally guide each individual student from inquiry to application to enrollment, but that's just not feasible. You need a strong and efficient lead nurturing strategy to engage your prospects and boost enrollment—a meaningful alternative to the one-on-one conversations you wish you could have. Automation does not have to mean impersonal. Read more here.
US vs China: One Chinese Student's Journey Through the Pandemic
There is wisdom in listening to real stories from real students studying through this very real pandemic. Intead Marketing Data Analyst and PhD aspirant Sally Zhu offers us her tale of two countries. Read about her dual experience of living in the US and China these past two years. As marketers, topics that are important to our audiences are also important to us, right?
The Long and Winding Road: Tracing the Student Journey
What is our student recruitment team doing well? What tools do we have in place to help them? What are we missing? A two-part series for the entire enrollment marketing and admissions team when considering the student journey. Find part one here, part two here.
Looking Ahead
Keep watch each Wednesday for new posts with valuable insights. Next quarter we will tackle influencer marketing, the effective use of recruitment agents, text message marketing, webinar best practices, and more.
Our job always: helping your team stay strategic and adaptive by providing practical, forward-looking information and framing it in a way that you can actually use. Let us know the topics you'd like us to dive into and share our findings.