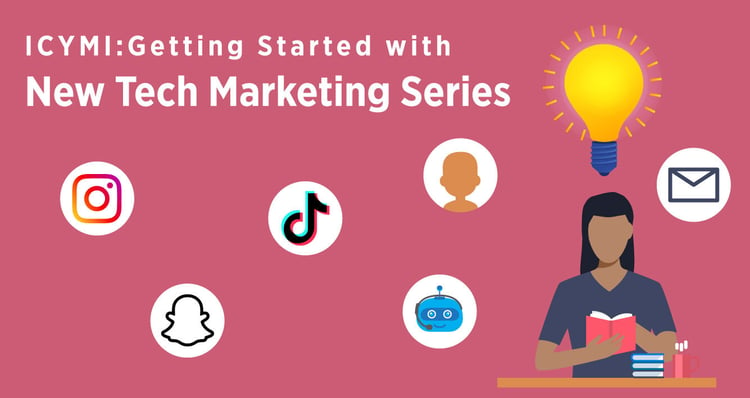 It's a sad day when a good idea dies on the cutting room floor simply because the team didn't quite know how to pull it off or have the time to implement it. Because who has time to bother learning something new? (Runner-up award for worst higher ed institution tagline!)
Truth is, getting started is more than half the battle, which is why over the past 12+ months we ran the popular "Getting Started With" series. Taken together, these posts become your team's Social Media Marketing 101 for student recruiting tools.
Today, we offer you a compilation of this newbie knowledge all in one place. Read on to learn how to get started with TikTok, Snapchat, Instagram, text message marketing, and more. This is one post you'll definitely want to share with the members of your team who actually get your stuff done.
---
As AIEA 2023 wraps up this week, we are looking ahead at our next chance to chat about internationalization with .Edu trustees and presidents in San Diego at the AGB conference in April. Honored to be presenting alongside Brad Farnsworth from Fox Hollow Advisory (former ACE VP) and Dr. Gretchen Bataille from GMB Consulting (former president of the U of North Texas among other amazing higher ed roles). We will be talking all about insights university leaders need to guide internationalization efforts. Reach out if you or others from your team will be there.
---
Read on for links to our full "Getting Started With..." series — highly sharable with the internal team you rely on to move all the recruitment levers just so. Go forth and produce great marketing things!!!
Getting Started with TikTok Marketing for Ed Institutions
Marketing Rule No. 1: Be where your target demographic is. If your audience skews toward ages 16 to 24, then your audience is on TikTok. Know anyone focused on this market? We thought so.
Getting Started with Snapchat Marketing for Universities
In an era where most social media platforms focus on curating aesthetic feeds, Snapchat stands out. Its impermanent nature nurtures casual, free-flowing conversation, making it an enticing way to connect with students.
Getting Started with Instagram Marketing Strategies to Boost Enrollment
The last time we wrote about Instagram marketing was in 2016. A lot has changed since then. But not everything. It resolutely remains a visual communication tool. But is it still relevant? (It is.)
Getting Started with Building an Audience
Building a receptive audience is foundational to strategic marketing. It's how you nurture prospective students from the point of awareness and inquiry to enrollment, no matter where they reside. Here's how…
Getting Started with Text Message Marketing for Universities and High Schools
Surveys from Mongoose (a popular SMS provider) tell us that a full 80% of students want to receive text messages from academic institutions. The caveat: they only want messages that matter.
Getting Started with Email A/B Testing
The creative art of email marketing has everything to do with knowing your audience and tapping into your recipient's curiosity. Learn how email A/B testing can help optimize your email campaigns. Read part 1 here, part 2 here.
Today's conversational chatbots help create the kind of user experience your important site visitors have come to expect: getting answers instantly. And as you know, it's all about building the relationships that drive enrollment conversion.
Need help getting started on a new recruitment initiative? Be in touch. We know exactly how to reach your audience online…and off.