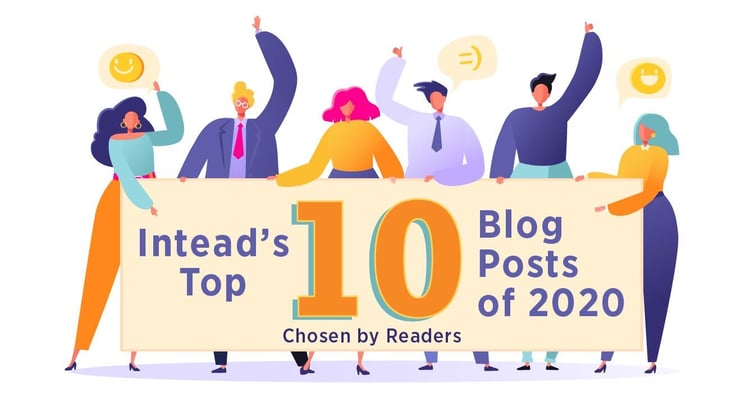 Traditionally, we kick off this annual post with a "Phew, what a busy year!"-type comment, but in the year that was 2020, that feels like a bit of an understatement.
In a year full of unprecedented uncertainty, ever-churning news cycles, and constantly shifting plans, we kept up each week, delivering Recruiting Intelligence insights and providing strategic and tactical guidance throughout the storm.
Today, we're sharing the insights that resonated the most —
the top 10 viewed blog posts of 2020.
With many of these top posts containing our advice from various stages of the early pandemic, you may be wondering — what value do they provide now? We're a whole year (and a whole pandemic) wiser, right?
Great question and we'd venture that these posts are all the more valuable now, as you and your team reflect on 2020 and build for the future. Seeing our past recommendations validated may provide you with an even stronger foundation as you push your colleagues to adopt forward thinking plans in 2021!
Consider the strategic guidance contained in these 10 posts your checklist. Do you have everything in place for 2021 and for the enrollment curveballs yet to come?
Share this with colleagues who can use these insights in the new year. They'll be plenty more posts coming your way in 2021. Do you know anyone who would appreciate receiving our weekly blog insights? The share button is at the end of this post.
Read on for our Reader's Choice Top Posts of 2020 (links included) and two bonus perennial favorites that consistently draw readers via their Google searches.
10. The New Student Enrollment Playbook is Here
Unsurprisingly, many of our top posts this year focused on navigating pandemic-related challenges. This post announced the release of our free eBook, Student Enrollment Playbook: COVID-19 Edition. Released in July, the eBook contains all of our pandemic resources in one place, including guidance on crisis management, online learning platforms, and navigating the new student recruitment reality. Half a year later, and our advice still stands. Click through to download your free copy.
9. What's Your Recruiting Superpower?
This was our first post of 2020 — remember when there were enrollment-related topics to talk about that were not influenced by COVID? Focused on "recruiting superpowers" that your staff needs at each stage of the funnel, this post outlined exactly what those "superpowers" are (think analytics, IT fluency, cross-cultural sensitivity, and social leadership, to name a few) and where they are most effective. Read on to ensure you have the right people in the right seats (with the right skills) going into the new year.
8. Online and on LINE: Japanese Social Media Platforms
According to Open Doors data from the 2018/2019 school year, Japan was the eighth leading sender of international students to the U.S. with over 18,100 students. Is Japan on your target country list this year? If so, you'll want to check out this post which covers Japanese social media statistics and a market prediction from a Japan Digital Marketing expert about where you should be focusing your enrollment marketing efforts next.
This one is really valuable as we head into 2021. Maintaining revenue streams and preserving students' graduation timelines in the midst of crisis were topics that weighed heavily on our readers this year. This post outlined two concrete paths to achieve both of those things through "turnkey" campuses in cities across the world through our partnership with CIEE. Read this post to learn more about how to provide students with your institutions' full academic experience, even when they can't travel to you. A number of institutions used this guidance to successfully secure enrollment numbers during 2020. We can't emphasize enough the value of this option for 2021 as well.
6. The Student Journey Re-Imagined
Whether you threw out your customer journey map in 2020 or never had one in the first place, it's time to revisit this all-important part of your digital marketing plan in the new year. With the pandemic disrupting student decision-making for the long haul, this post provided perspective on how and why you should be building your digital marketing foundation to effectively move students down the funnel. We recommended that you shore this stuff up back in May, but if you missed our tips the first time around, it's not too late. Frankly, it is never too late.
5. Your Most Influential Recruiter is Right in From of You
Did you know that when deciding where to apply for university, 57% of students report that online conversations with an institution's student ambassador were their most helpful resource? In this post, we introduced one of our 2020 eBook publications, Peer-to-Peer Student Conversations: How influential are they and what's their value for your recruitment strategy? featuring brand new research conducted with Unibuddy on the power of student connection in the recruitment process. Missed the download the first time? Click through to get your free copy. Great stats here to help you tailor your message by region.
4. International Strategy in the Time of Coronavirus: Longer-Term Thinking
This post was a meaty one, published in the ever-changing news cycle of early COVID. In it, we provided our long-term strategy recommendations for weathering the pandemic before the scale and magnitude of the impact was even evident. Revisiting this post nearly a year later, our advice still holds. Some of our recommendations, including flexibility to scale activity and expenses up and down and expanding enrollment strategy to include non-traditional students and location-independent options are still pillars of a resilient plan that we'd advocate for any day.
3. Full on Armchair Student Recruiting Has Arrived
Data, perspective, and strategy advice for navigating the new recruitment reality — it's no wonder this post made it into your top three this year. Published back in April, we made some pretty prescient predictions about how enrollment would look in the fall. Now that we're on the other side, read through to judge our psychic powers for yourself. Our validated recommendations might just carry some weight with your leadership and committees. Take note of the four concrete strategy recommendations we gave at the time. Do you have those things in place for 2021?
2. New Revenue Sources: Your Success Depends on It

This year's runner-up post contains some of our most comprehensive and concrete strategic recommendations we've ever offered on the blog to help you innovate, adapt, and thrive in the face of enrollment shocks. We're talking specific advice tailored to individual student segments including graduate, non-traditional, and undergraduate (by year, no less).
And our #1 post of 2020? Drumroll please…
1. Adjusting Your Chinese Recruiting: 10 Insights to Guide Your Plan
What happens when your primary international target country loses its luster? And what do you do about it? Enter our #1 post of 2020. In this one, we delivered ten concrete Intead insights to guide your Chinese recruitment strategy in the face COVID-19. But this post isn't just about COVID, and it's certainly not only about China. In fact, all the strategies we recommended are applicable to any enrollment shock in any market. Bookmark this now. And stay tuned! We will be publishing new insights on what Chinese parents and students are planning.
Bonus Posts — Reader All-Time Favorites:
How Much to Pay Commission-Based Student Recruiters?
Originally published back in 2012, we updated this perennial favorite in 2019 with our latest info including a link to our valuable published research with AIRC, a survey of over 160 academic institutions and 50 student recruitment agencies. Here you'll find data to help you benchmark your own use of agent networks against your peer institutions. Given how many times this post has been viewed this year, if you haven't read it yet, you're missing out!
The Buzz Around SIS and CRM: Is Slate All That?
Another reader favorite published back in 2019, this post covers the features, tools, and infrastructure of everyone's favorite CRM platform. If you're not already on the Slate train yet, read through to learn up, and stay tuned for a new post in January as we re-visit the platform, talk to some of its users at institutions across the country, and ask again — is Slate really all that?
We Want to Hear from You!
Let us know what made your top 10 list from 2020. And what you want us to research and write about in 2021. Got a burning question or a great idea? Let us know: info@intead.com.