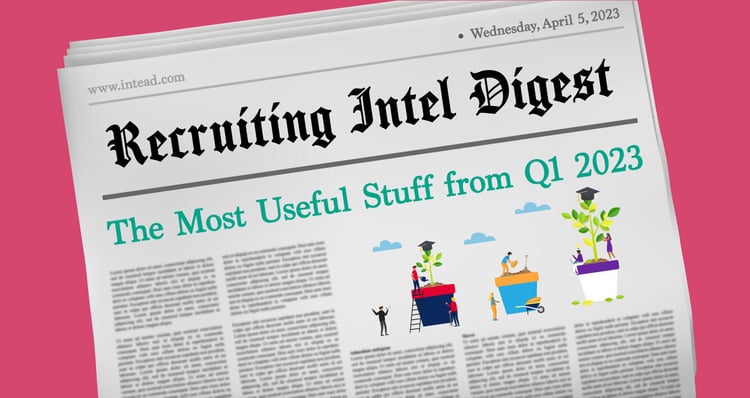 That feeling when you recognize your passport stamps are indicators of future success – for you, and your future international students.
With all that 2023 travel and recruitment planning (so great to be back at it!), you may have missed some of our student recruitment analysis from Q1.
We'll be in DC at the ACE annual conference in just a couple weeks and then we are planning some great things for NAFSA at the end of May. Can we connect with you at one of these events? Let us know.
We've summarized Q1 2023 right here to keep you up to speed. And we were heavy on the highly valuable downloadable resources this quarter. Go ahead, click where the insights grab you.
Read on...
Global School Start Calendar: A New Student Recruitment Cheat Sheet
This was a hot new download for so many of our readers. Adding to our extensive library of recruitment tool cheat sheets. This one quickly shares school start dates from 29 top-sending countries. Useful to plan the timing of your communications with students and parents? You bet! Check it out here.
Enrollment Staff Structure: Roles Defined and Tasks Identified
A simple chart demonstrating the breadths of skills needed within your enrollment team and how they apply at different points in the enrollment funnel. Great conversation starter for you and your team as you consider the skills you have and the skills you need. Highly valuable click right here if you are not among the many who've already grabbed this one.
Customer Service as a Marketing Tool
65% of U.S. customers said that a positive experience with a brand is more influential than great advertising – and this rings true with effective student recruitment as well. But the quality of your customer service isn't as simple as being kinder by email or on Zoom. In this post we outline four strategic steps to take when rethinking your customer service – beginning with mapping out your student personas. Check it out.
When Traditional Markets Weaken, Look to the Middle East
With traditional international student recruitment markets growing more ambiguous, our team provides some useful pointers for evaluating whether the Middle East is a region worth your time. Click here for our analysis of economies, academic disciplines of choice, education systems, and career opportunities, among other factors.
Student Journey Slide Deck
The student path to enrollment is less of a path and more of a nodal network. What does that mean? At the 2022 AIRC conference, we co-presented with Vanessa Andrade, CSUN, and Sean Cochran, CSULB to explore how students move from one touchpoint to another and back again as they evaluate university options and make enrollment decisions. Hard to generalize and say that one of our recruitment insight tools is better than another because it all depends on where each institution is in the process of building an amazing student experience. Nevertheless, THIS post is highly valuable with student journey insights that go beyond the standard Candyland journey most marketing agencies are touting. YES! worth the click.
ICYMI: Getting Started with [new tech marketing] Series
This post is your one-stop-shop for new tech marketing tools. From Tik Tok and text message marketing to building a receptive audience and A/B email testing, we've outlined it all, with our takeaways based on real client lessons. Click here for our tools or just share it with your digital marketing team so they can find the resources most valuable to their work.
Budgeting as Expression of Values: 3 Essential Questions
FYE is just ahead and everyone is sweating the details to make sure they have enough to push their plans forward in the next academic year. And we all know that you'll only receive a percentage of what you've requested. So, what do you prioritize? Our one-page framework helps you evaluate your options against your overarching (or very specific) goals and the target results you must produce for success. This cheat sheet has developed a real following every budget season.
Reflecting on #AIEA2023 Promises Being Made and TBU Data
Ben's conference reflections on internationalization and what SIOs are struggling with today. From vendor relationships and the promises we are making to Gen Z and the recognition that some of the data we find is simply TBU! (True But Useless) Find our AIEA take-aways here.
Productive Conflict in Action: A Podcast on Agent Aggregators
The use of agent aggregators has become increasingly controversial with good reason. This ICEF podcast lays it all out. A lively discussion where Eddie West, SDSU, Sadiq Basha, Edvoy, Tony Lee, ICEF, and Ben don't mince words. Grab a cup of coffee, or jump on the treadmill and check out the excellent podcast discussion here (~60 min – it goes real fast).
My MBA program isn't growing like theirs!
The latest data from GMAC's Application Trends Survey indicates that in the 2022-2023 academic year, MBA programs across the country had significant declines in applications. The only outlier: flexible MBAs. Check out this post for our take on the MBA landscape and what you can do to boost your MBA enrollment rate.
We're here for a chat if any of this stuff prompts a "How do we actually implement that idea here?" Looking forward to seeing you at NAFSA this year.