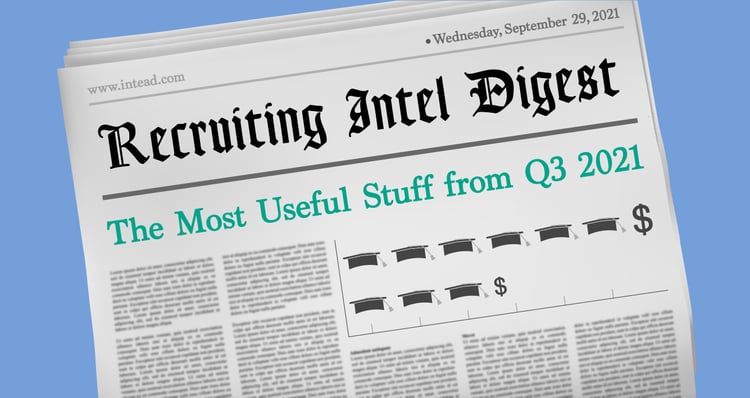 No quiet summer here--things have only sped up this quarter as institutions recalibrated their approaches to the ongoing hurdles and opportunities of the pandemic. With innovative thinking and disciplined strategy, your colleagues are tackling the big issues of the fall and considering how to adapt for spring and fall 2022. Today's post points you to some of the high-performance best practices we've shared over the past 3 months to help during these times of uncertainty.
So, grab a cup of coffee and before you finish it, we know you'll be sharing links from this Q3 2021 wrap up with your enrollment team and colleagues with the power to make positive change for students around the world.
Read on for our quarterly recap of Intead resources available to you — all in one place. Plus, a preview of what's coming next. But first:
PARTICIPATE AND LEARN: Opportunities up stay current and up your game:
October 5, NAFSA All-Region Summit Session: UMBC and Intead present "0-60 Internationalization" — Register HERE.
October 12, AIRC hosted Webinar: Technion Israel Institute of Technology and Intead present "Shifting Student Perspectives: Digital Marketing Now" — Free to AIRC members and $45 for non-members. Register HERE. (If your institution is not an AIRC member, hit us up for a code and we'll see about getting you past the velvet ropes.)
IIENetworker fall issue publishes Intead's 2021 market research on Indian and Chinese student mobility. See below for a link to the magazine full of insights.
Here's Our Q3 2021 Wrap Up
Latin American International Student Recruiting Series

Our widely-read, four-part 2021 Latin America international student recruiting series offers keen insights into current opportunities and challenges in Brazil, Colombia, Ecuador, and Mexico, In each, Intead's analysis identifies key recruiting trends unique to each market. And check out Intead's 2019 Emerging Markets Report for more useful insights into these and other valuable LATAM (and African) student sources. Other institutions are sharpening their vision and aligning their budgets to thrive in new markets. Don't be left behind!
What's Coming Next
A considered perspective on what all those student recruitment platforms are offering, and what they are not. And importantly, whether a DIY option can compare (pro tip: it can).
As a lead up to the AIRC conference this December in Miami (you are going, right?), we're taking a look at how AIRC members perform against a non-AIRC member cohort. Is a robust agent network on your holiday shopping list?
You'll want to stay tuned!