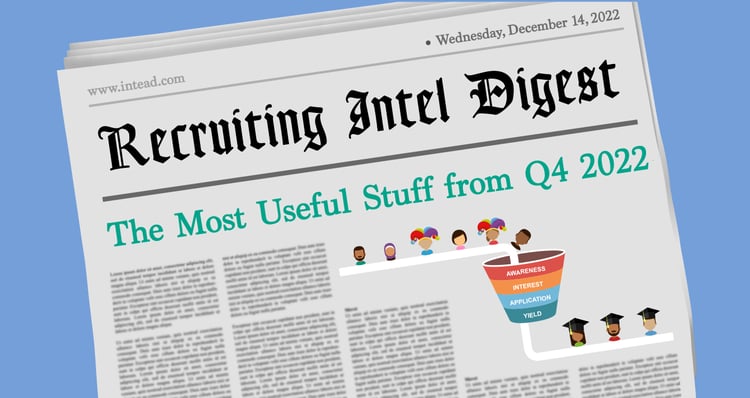 Coming in hot off a truly inspiring in-person workshop with peers and industry leaders yesterday. So many wanted to come but for the timing (or internal approvals). Not to worry. We'll catch you up in the new year. But the word is our industry is feeling optimistic. Even the new Open Doors data supports our enthusiasm.
Should this energy and associated momentum have kept you from diving into all our posts of late, we totally get it. No hard feelings. That's why we're putting all the top news from this fast-moving quarter together for you in one easy-access spot.
But first, if you'll be at ICEF this week, be in touch. We'd love to connect.
Please note: Our Recruiting Intelligence Blog will be on holiday hiatus for the next 2 weeks. See you in 2023 with some great slide decks for you to download and a surprise announcement to help you achieve more.
Now, read on for best stuff (student lead platforms, 5-year data trends, LATAM stats, and more) from Q4…
Here's Our Q4 2022 Wrap Up
Are Your Student Leads Intent-Ready…or a Joke?
How many solicitations do you get every day from digital companies promising to connect you with quality leads? We're sure it's more than enough. If they all did what they say they can, you'd be swimming in prime leads. And all your competitors would have those same leads as well. While some platforms actually do provide really useful services, none are a panacea. And you'll need consistent and creative follow-up to get the quality leads to convert. How to know which lead generator might be right for your institution? Start by asking your team these key questions. Click here.
900+ Institutions Report on Internationalization
Last month the American Council on Education (ACE) released the 5th edition of its signature "Mapping Internationalization on U.S. Campuses" report. Some say it's the most dynamic edition yet as it lays bare both pre-pandemic and COVID-era trends to reveal our collective internationalization priorities during a particularly precarious time. We share 5 key findings that really popped for us. Click here for our take.
When Traditional Markets Weaken, Look to Latin America
Latin American students represent an opportunity worth exploring right now (have been for a while). So, we're giving you our latest analysis to get you going in the right direction. In this post, we offer a review of Brazil, Mexico, and Colombia. And here, our insights on Venezuela, Peru, and Argentina.
Quick-Hit Index to Global Social Channels
Knowing which social media platform(s) makes the most sense for which audience in which part of the world, can get tricky. That's why we've compiled the new Virtual Worldwide Channels Cheat Sheet. This Intead Index is available for free to Intead Plus members. Not an Intead Plus member? Discover why you may want to change that. Click here.
Getting Started with Email A/B Testing Two-Part Series
Take a closer look at the nuts and bolts of email testing in this two-part post. We offer best practice tips that will help you validate that your team is on the right track. This series is one you may want to share with the copywriters on your staff as well as the newer marketers on your team. Click here for part one, and here for part two.
And that about wraps it up for 2022. See you in the new year! We have so much more to share with you in 2023. Happy holidays!!!!