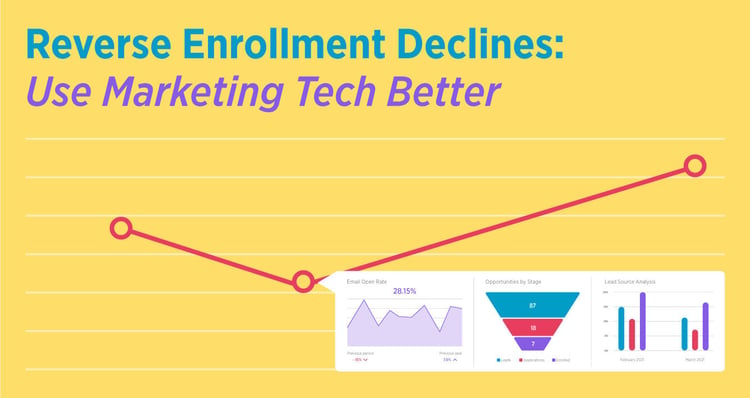 So many dashboards. So little time.
Where is success hiding? How much investment will it take to achieve our targets?
With student mobility still in a state of flux, all bets are off for your predictive models. Or are they?
Today, we are talking to those with a CRM and marketing automation tools already in place.
Is this you? Your system works well enough and you can see some obvious gaps in functionality and interconnectedness. But you have what you have and there is no immediate opportunity to upgrade or change what you have. So…it is all about using the tools you have, better.
How do we get there? How do we know which features have real value to our operations? How can we use what we know to achieve better results?
We are heading into four wonderful days of interacting with our peers at the AIRC conference in Miami this week. The Intead team will be presenting on innovative ways to use the rising tide of influencer marketing for academia (it's not going to be what you might think), and we will be presenting on innovative approaches to grad student marketing.
We can't give enough thanks to our colleagues Toni Jaeger-Fine from Fordham Law School, Ita Duron from Massachusetts College of Health Sciences, and Kirsten Feddersen from Northeastern University all joining us on the dais to share our experiences and ideas. SO many ideas. Testing and confirming marketing approaches that are unique to each institution's strengths.
Reach out if you would like to share a cup of coffee in Miami!
Read on for our two concrete recommendations for using your marketing tech better.
Selecting Academic Marketing Tech
Stepping back, for just a sec to talk about selecting marketing tech. Slate, Recruiter, Dynamics, Janzabar, Hubspot, Marketo, Salesforce, Mailchimp, Constant Contact and of course, Google Analytics. Just some of the tech tools student enrollment management professionals are leaning on to do their jobs. You've heard of some of these? Are using some of these? The list goes on much further.
Selecting tech for academic marketing is a challenge. But that challenge is shorter lived than the challenge of getting your team to use it and use it well.
What each academic CRM and marketing automation software package does varies. Many of the packages attempt to do everything under the sun and in that, do a poor job in so many areas. Some even offer a CMS along with the CRM and marketing automation. One solution doing it all typically offers a watered-down experience (that's putting it nicely).
A word to the wise: check the testimonials, references, and development track record carefully.
A few Intead resources you might find valuable:
Using Academic Marketing Tech
We have SO many questions!
Clearly, we can't go into every tool and explain how to optimize each one of them. And for each institution, with different departmental and staffing structures and different talents on hand, the best options are going to be different in each case. While there are always consultants teaching "best practice" (which lives in a rarified fairyland), we know that there is, in every institution, "actual practice."
So, the real question is: How can we move our team toward best practice (or achieve our relative version of "best practice")?
In our experience, one of the clearest values that can help your team take a step up with the use of academic marketing tech has to do with improving your internal communication and information sharing. There is so much talk of dashboards and KPIs (key performance indicators). This is really good stuff out there to bring you up to speed (try this blog post about measurement as a starter).
To make KPIs work for your institution or department, everyone needs to understand them. How they are presented to senior leaders and your team in the trenches is so important. When your data team distributes the monthly enrollment reports (you are doing that, right? And during critical enrollment periods far more frequently?), when they distribute those reports, does everyone on your team understand them?
In other words, when your team sees the charts and numbers, do they also have the "what this means" context. Rising and falling numbers indicate changing consumer actions. Lower email open rates are bad, right? But what if your conversion rate to applications is stable? That means fewer prospective students are reading your stuff and those that are reading it find it meets their needs. Your marketing is achieving higher efficiency. Fewer leads with higher quality. Less markteting administration time with good results. Fabulous.
And yet, so many enrollment teams must focus on raising application rates so that the denial rate increases. The result? The appearance of higher selectivity and higher ranking. Not necessarily a student first approach, but sure, we get it – a lot of institutions do this kind of marketing. (More on what "student first" is and how to roll that out in your marketing in a near future post – stay tuned).
Do your reports show higher or lower engagement rates on Instagram? What happens when you track that engagement to your campaign landing pages using your CRM and compare your Google Analytics traffic data? The numbers don't always align between the different tracking tools. What does that mean? Poor implementation of tracking tools?
It's about improving your student prospects' movement through your marketing funnel. Where are the hang ups? What barriers can you reduce? (See our blog post on the student journey here.)
So many of these CRM tools talk about how automated and customized the user journey will become when you implement their entire suite of services. That kind of implementation takes a tremendous amount of staff time and few institutions do it.
The reality: your team is likely using a small percentage of the marketing tech available to you.
Two Levers To Improve Results
Take the time to do just 2 things more effectively and frequently and you will see improvement:
Communicate and Explain – Simplify and contextualize your dashboards so that everyone up and down the chain can understand what is going on. Share understandable reports that the team can grasp and can use to connect the dots between their role and activities to your institution's enrollment success. KPIs that everyone understands (presented with contextual explanation) empower the team to contribute ideas and actions for efficiency and growth.
Lead scoring – Use your data (KPIs) to identify those prospect activities that are more likely to convert (not just giving points for website visits) and score them in a way that allows your student recruitment team to focus their personal outreach to the most valuable leads.

There are those prospects that are going to apply with no encouragement – they already love you.
There are those that are kicking the tires a bit and are never going to convert – a waste of your time.
And there are those trying to figure out what is best, and your institution represents a viable option. Is your lead scoring helping your recruitment team focus where they can do the most good to boost enrollment results?
The Other Levers You Have
What levers are you able to move to actually make a difference in your outcomes?
Spend more money on marketing – more creative assets (digital ads, videos, dissemination channels, media buy), more recruitment travel, more sponsored student events, more recruiting agent training and management.
Change the creative messaging – are you engaging your target audience (See our blog post on Speaking Gen Z

Part 1

and Part 2)
Streamline the admissions process – reduce barriers (See blog our post on Gen Z barriers here)
Hire more recruitment staff or outsourced recruitment marketing support
Put better marketing tech in place if it really is not giving you the level of assistance you need
We hope this perspective is helpful. Know that our expertise is available to help you move the needle anytime.