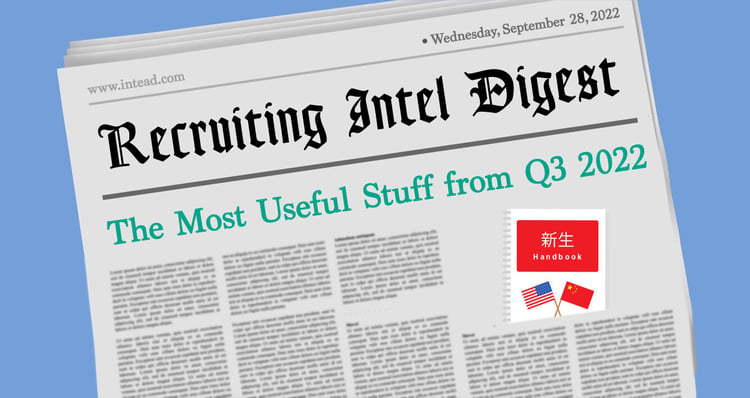 The relief of entering a more "normal-ish" academic year is met with both new and familiar recruitment and admissions challenges: student housing shortages, diminishing interest in postsecondary education here in the US, eroding confidence in our academic institutions, and increasing competition for students from abroad. Oh, and the looming demographic cliff in the US.
One step forward. Two steps back. (Or was that four? Maybe let's not count right now.) This from the marketing agency always pushing analytics ; -)
Truth is, we're not that cynical. But if you are reading the edu literature, the headlines would push anyone in that direction.
Nevertheless, if you follow what IIE has to say, then in-person learning has rebounded, as has in-person study abroad and international applications. We are waiting on concrete industry enrollment numbers to confirm growth, but still, we know what is happening out there. There is progress on many fronts.
There are always cycles. And those who analyze and plan are far more likely to succeed. Too busy to do it well is not an option. Too cynical to fight for success really doesn't work either. Optimism tied to well-researched targets motivates the team. Motivated, proactive partners can truly move the needle.
---
COME LEARN WITH US!
Among our colleagues in this field, we see a tremendous thirst for gathering and evaluating our options, with time to really talk it through. The Intead/San Diego State University One-Day Workshop will be a hands-on opportunity to learn from an awe-inspiring international student recruitment faculty.
Full-day, hands-on workshop on strategy and execution: Come with questions, leave with a plan.
Two luminary keynotes

Social Justice Luncheon with Dr. Jewell Winn and Adrienne Fusek
Chinese Student Influencers Dinner with Dr. Yingyi Ma and Brad Farnsworth
At $200 for the day (inclusive of all meals), this learning opportunity is a steal. (Pricing goes up to $350 on October 24, 2022).
---
As you take a moment to weigh the opportunities in higher ed today, we offer a recap of the most valuable news from Q3 2022, including insights on China and Africa as well as some practical how-to tips on marketing to the Gen Z digital natives. Read on…
Here's Our Q2 2021 Wrap Up
For Chinese Students, Authenticity Counts
Let's talk about specific tactics for mid- to lower-funnel marketing communications. And specifically, how are Chinese students making their decisions today? Check out this top post looking at for-student by-student handbooks launched by universities across the US. Also this post by contributing Intead Marketing Data Analyst Sally Zhu, with her insider's take on the right-now priorities of Chinese parents and students.
When Traditional Student Markets Weaken, Look to Africa
The best markets for international growth have three key things going for them: a growing youth population, rising incomes, and employment opportunities for returning graduates. Africa has a number of underutilized recruitment hubs that boast all three. Check out this two-part series for fresh recruitment insights and relevant market research links for 7 African nations: Ghana, Nigeria, Kenya, Ethiopia, South Africa, Morocco, and Tanzania. Click here to read part 1 and here for part 2.
Getting Started with TikTok, Snapchat, and Instagram
Marketing Rule No. 1: Be where your target demographic is. Knowing where the kids are prompted us to create our popular "Getting Started With…" series. Learn best practices and creative approaches to boost your use of TikTok, Snapchat, and Instagram for student recruiting. Your team will be glad you shared these ideas with them. Some basics, some fresh approaches. And for senior leaders, you'll be glad you can follow the conversations your team is having with a bit more perspective ; -)
Our goal, as always: be a valuable resource and partner for you. Isn't that just what you need for the recruitment cycle at hand? Be in touch.